Ready to roll with Barcamp Delhi 6
After the successful ending of the wordcamp india we get the chance to interact with many online folks on an offline platform .In case you missed the chance of wordcamp india then BarcampDelhi6 is your another desirable state to step into social world.
BarcampDelhi6 will be full of interaction and interesting sessions.Some of the proposed session are as follows:
Mobility – iPhone , Android and beyond –  Sunil Goyal
Content Strategy and Social Media –  Yu Yu Din, Editor
Indian LBS Insights – Loop holes, Opportunities –  Piyush Gupta
Recession, jobs and start ups –  Brijesh Singh
Knowledge Management –  C.K.Arora
Youth Marketing and Entrepreneurship Opportunities in Down Turn. –   Ravi Dabbiroo
Extent of Cyber crimes in our Social Lives & Solutions – Rakshit Tandon
E-enabling Youth through Innovative approaches of Knowledge and Learning platforms –    Dolly Bhasin
Virtualization and Green IT- Where IT Infrastructure is heading –   Sanjay Kharb
Marketing in Social Media Fragmentation Era –   Nandini Maheshwari
The FLOP Business-What, where and how? –  Narendra K. Shukla
The Open Web –   Shwetank Dixit
The Global Warming –   Rohit Prakash
FIX Protocol   – Atul Lakhotia
The Financial Crisis and India Redux  –  Pankaj Jain
Adobe AIR   –  Romil Mittal
If you have a flashing angle then you may also participate in the BarCamp Delhi 6 Contests organized by mediaredefined.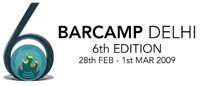 Contest : There were basically two sort of contests first is BCD Virtual Talk Blogging Contest where a blog post can make you win your very own domain with hosting. The second is a photography contest titled BarClickDelhi where pictures taken by you at BCD6 can help you win a Flickr Pro account. Read more details of the contest.
Some of the important tags used in BarcampDelhi6 are :
Bloggers can use following banners images: