Recession to a Local India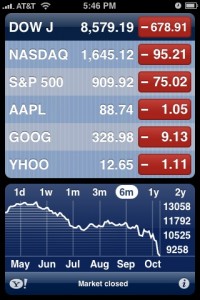 What's a recession ?
The term recession entails widespread decline in the GDP and employment and trade lasting from six months to a year. And as the cliche goes, whenever the US sneezes, the world catches a cold. This is evident from the way the Indian markets crashed taking a cue from a probable recession in the US and a global economic slowdown.
US recession to India
"Growth opportunities exist…but there's a need to develop asset management expertise to help evolve industry's focus to profitability."
-Sean Williams, Interim Head, Morgan Stanley Realty India
Due to the downfall of Major banks in the US (after the Subprime market collapse), the hands that provided monetary funding were compelled to evoke monetary funds for themselves. And as far as India's GDP is concerned, Citigroup and Morgan Stanley have lowered India's growth projection to 6.8-6.7% from 7-7.2%for 2008-09 due to slowdown in consumption and investment. Being wound up with the widespread, the annual inflation in India struck 6.68 percent in mid-March, the highest since a two-year peak of 6. 69 percent in January last year, mainly due to a jump in world prices of food, oil and metals."This has increased the risk that policymakers will initiate fresh measures which will further compress the growth trend," Chetan Ahya and Tanvee Gupta, economists at the US investment bank.
photo by inspecie.co.uk
Job cuts ?
Dunlop India Ltd. on monday tells 1171 staff to stay at home, offering monthly allowances.
Citigroup the fourth biggest US bank by market value,

plans to eliminate 50,000 jobs, or about 14% of the workforce.
Banks and Brokerages worldwide have shed almost 1,60,000 jobs since the subprime mortgage market collapsed last year.

As India's tech firms prepare to protect their operating margins admist a worsening

economy, Tata Consultancy Services (TCS) is expected to bring down their wage cost by not providing any salary hike to their employees next year.
"Really good ones are being laid off during times of recession", says Robert Miller, co- founder of Miller Heiman. May it be IT jobs, Airlines, inflation to a middleman, the trail has followed even the newly joined work force. The average numbers of offers (per student) at IIM –B was 2.6, down from 4 in 2007 and FMS saw a dip with 1.3 offers this year unlike 1.62 offers per student last year.
Making headlines
Due to the economic slowdown, passenger load factor on airlines has come down on an average by 15 % . This may result in losses of rs. 10,000 crore to the industry.

The recession has become a nightmare for small and medium enterprises (SME's) and logistics service providers (LSP's) and has made it extremely difficult for them to make progress due to the increasing credit crunch.

The small firms are bearing the brunt of the global financial meltdown and have limited options, the big ones too have not been spared.

An official of Indian oil corporation (IOC), which is expected to receive 60% of the total outstanding amount, said the amount paid by Kingfisher and Nacil was lowered by 7 crore and 8 crore.
The dilemma with its certainty has made it implausible for the Indian financial state to flourish, but the helping hands have still not backed out yet; The global economic slump and downtown in the real estate hasn't deterred Morgan Stanley Real estate from going ahead with its India plan. It's planning to invest $ 1 billion over the next five years. The India economy is likely to lose between 1 to 2 percentage points in GDP growth in the next fiscal year and Indian companies with big tickets deals in the US would see their profit margins shrink whereas TCS, Infosys, Wipro, Satyam, HCL & Cognizant with cash reserves of more than 500$ mn are in a good position to tide over slowdown & explore on M&A's. What has hit the corporates is the rupee which has weakened against the dollar drastically over the past few months. The worries for exporters will grow when Rupee strengthens further against the dollar. Though experts note that the long-term prospects for India are stable, a weak dollar could bring more foreign money to Indian markets. Oil may get cheaper bringing down inflation. As lately presumed, the world can go on peacefully even if America is suffering from last stage cancer.