Samsung 3D TV Lineup – Review
Samsung Electronics Co., Ltd., a market leader and award-winning innovator in consumer electronics, unveiled the next generation 3D TV on all three of its TV lineups, the Plasma, LED (backlit) and LCD (CCFL backlit). 3D TV is the fresh choice for consumers today and Samsung 3D TV features a first of its kind built-in 3D processor, connected interactive experiences and innovative, trend-setting designs with a wide range of options to match the décor of almost any living room. Along with the launch the 3D home entertainment system comprise high-definition 3D TVs, the BD-C6900 Blu-ray Disc Player and an audio system that can be purchased separately also. Samsung has also allied with Dreamworks Animation and Technicolor on promoting content for 3D home entertainment.
The LED TV with 3D capability line-up of Samsung is world's thinnest TV ever – the LED9000 series is just 0.3-inches (7.6mm) thick. 3D capability can be obtain on LED7000 series and above, for plasma TVs it is 7000 series and above and for LCD TVs you can get it for 750 series. People who desire to watch 2D television shows in 3D, Samsung has incorporated a 3D chip with auto-conversion technology that renders 2D content into 3D in real time. And to get greater experience you have active shutter 3D glasses (resolution – 1982×1080) sold by the Korean giant to get full cinematic 3D feel right in your living room.
Interesting Features of Samsung's 3D TVs –
Less Layered Image – Samsung's new line of 3D-enabled TVs has panels that produce smooth and clear 3D images. Samsung's superior 3D technology is embedded in every panel which reduces the response time between the left and right eye images, resulting in Less Layered and amazingly clear images every time.
Decreased Flicker – With its advanced flicker-reducing algorithm, Samsung 3D TVs reduce the flickering that occurs while watching a movie played from a 3D Blu-ray disc player, or other images with a low refresh rate.
Reduced Judder – Samsung's Motion Judder Cancelling Technology reduces judder to produce clearer and smoother 3D images. This amazing technology inserts additional frames into fast-moving scenes, like in sports or action films, to reduce blurring and any type of image juddering. So you'll enjoy the highest picture quality, no matter how fast the images are moving.
Cutting-edge Technology – The Samsung 3D LCD TV Series 7 combines cutting-edge 3D LCD technology with 3D HyperReal Engine to create magical multi-dimensional entertainment. Sit back, relax and watch the action come to life with dramatic depth and rich 3D realism.
Samsung 3D TV lineup comes with –
Motion Plus 200Hz
3D HyperReal Engine
Mega Dynamic Contrast
Clear Motion Rate
Full HD 1080p
Ultra Clear Panel
Wide Color Enhancer
ConnectShareTM Movie
Internet@TV
Teletext (TTXT)
AllShare (Powered by DLNA)
Wireless / Samsung Wireless Link / Wireless Remote
HDMI® x 4 / HDMI 1.3 3D Auto Setting
SkypeTM on Samsung TV
SRS Theater Sound
Personal Video Recorder Ready and much more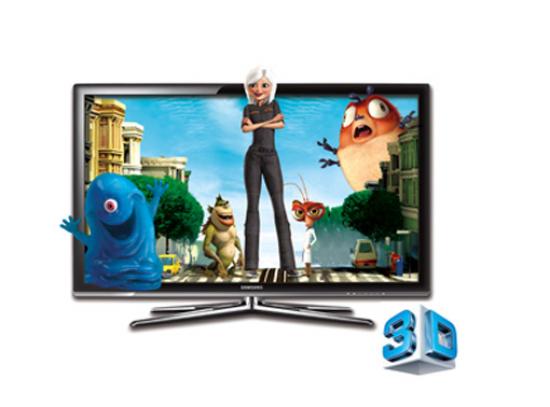 Samsung 3D LCD TV
With Samsung 3D LCD TV 7 series you get amazing picture quality, improved multimedia playback and unrivalled connectivity that offer you to experience the world beyond your wildest dream.  This one delivers a rich, real 3D sense, which is much above than watching a simple TV. It offers deep interface that touches all of your senses, taking you in a captivating environment where you share something special. Just when you thought entertainment couldn't get any better, Samsung 3D LCD TV shows you just how good it can be.
Samsung 3D LED TV
The reason why LED TVs today are getting in to more and more mainstream is because of the beauty of LED technology. LED TV does not only offer enhanced picture quality but also is more efficient and slimmer than just about any TV available. Also interesting to know is that, Samsung's LED TVs use as much as 40% less power than any equivalent-sized traditionally-lit LCD TV. And Through the development and implementation of proprietary 3D technology, it delivers the world's most realistic 3D viewing experience. Samsung 3D LED TV's premium ultra slim style, 3D HyperReal Engine and unrivalled multimedia connectivity take entertainment to the next dimension. Step into the future of entertainment with Samsung 3D LED TV.
Samsung Plasma 3D TV
Samsung is the leading provider of Plasma TV and by incorporating 3D it gives you ultimate cinematic experience. It features 3D Full HD 1080p images, ultra-slim profile, lightweight design and trademark ToC style that creates a larger comfort zone for your life. With solid eco-credentials, Samsung 3D Plasma+ TVs are clean, green and easy to recycle at the end of their extended lifetime. The extreme realism of Samsung's premium home 3D experience will transport you to the next dimension of entertainment and immerse you in a world that would encourage all your senses.
Samsung 3D Blu-ray Disc Player
The unique idea of brining 3D Blu-ray disck player along with 3D TV has just surpassed all the expectations. Samsung 3D Blu-ray disc players are your all-access pass to a world of unlimited entertainment. With real 3D Full HD 1080p, enhanced Internet@TV applications and precise picture quality, they enable you to experience 3D entertainment that is deeper, richer and more realistic than ever before. With crystal clarity and seamless speed, images immerse you in a way that engages your emotions and stimulates your senses. Taking Blu-ray to 3D Full HD Pushing the boundaries of Blu-ray yet again, the 2010 Samsung 3D Blu-ray player takes you to the next dimension of entertainment.
We think by introducing 3D TV line up for LED, LCD and Plasma, Samsung has brought the best device ever launched. So get your hands on with Samsung's 3D line up and create your ideal 3D home entertainment environment.
Note: For more information, offers and queries you can also join Samsung facebook fanpage.