How to Search Effectively on Google Using Nibbo
While searching on the internet, many times I need both image and web search results. Google doesn't allow to show all the results on the same page (with some exceptions) therefore I open the web interface and then the image interface to see the results separately. Switching from web result to image results takes extra time.
Then I found one amazing service known as Nibbo, a Google powered search engine that lets you see all kind of search results (web, image, news) on one interface. You can also see the hot trends of US on the search page (probably they fetch the data from Google trends.)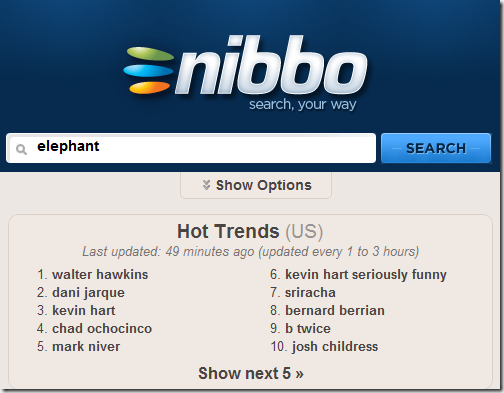 When you perform any search on this site, it fetches all the data from Google and other services such as Wikipedia and Twitter. All the results are divided into category. The middle box is for web search results. On the right sidebar, you'll get image search result at the top and then video results, news results, Wikipedia and Twitter search results.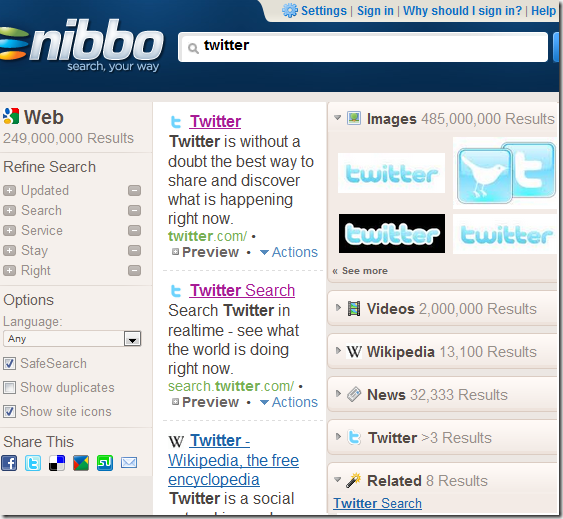 Some other nice feature of this website is search suggestion feature and you don't need to click on the next button to go to the second page of the search result. Just scroll down the page with the help of mouse. It also allows you to share your results to various social sites and via email.
There is a settings button at the top by which you can add blogs, feeds, books and many other search parameters. By using this service you can easily create custom search engine and save it so that you can use it from any computer. There is an option to reorder or remove search engines.
Check out Nibbo to search smartly on Google.