5 Services For Sending Large Files
If you work in a business environment – or even a school environment – that requires the frequent transfer of large files, you may have run into some trouble. The problem is, most basic email providers, and indeed many Internet providers, are not properly equipped to send large files in the efficient and secure manner that you likely prefer. This is why many people with similar needs end up looking into services specifically designed to solve this problem. And with that in mind, here are 5 tips for services that can help you to share and transfer particularly large files.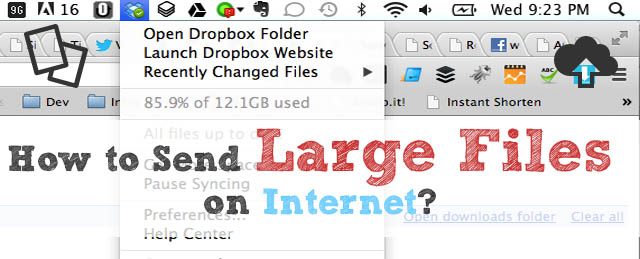 1. Google Docs
For particularly large documents, you'll need to go with something a bit more capable than Google Docs. However, if you are merely looking for a more efficient means of sharing and collaborating on files that are difficult in email, Google Docs is a viable option. Provided everyone you are sharing with has a Gmail address, this service allows mutual collaboration on documents up to 10 MB in size.
2. Dropbox
Typically, people seek out Dropbox as a means of stashing and backing up their own files. However, Dropbox is also capable of helping you to share up to 2 GB of information for free, or more if you opt for one of the various paid options. This is generally a quick and simple option for heavy file sharing.
3. ShareFile
Capable of supporting very large files, ShareFile is quickly becoming a favourite for businesses in need of advanced sharing options. The pricing and options vary a good bit, but if you opt for some of the higher up options, you can also obtain additional file sharing security, as well as Internet service, through ShareFile. For a company with significant file sharing needs, this is one of the best options on the market.
4. YouSendIt
For more individual needs, or even if you just want to start with something simple, YouSendIt is a great option. The service is very user-friendly, and the free trial run allows you to see if the file sending services work well for you. You can send larger files than you are able to through basic email, and also send them to multiple destinations at once.
5. MailBigFile
For students or independent professionals with personal needs, MailBigFile is one of the most appealing options. The service is not capable of handling extremely high volume, but it provides a very efficient way to send larger than normal files (such as lengthy papers or presentations), at a very cheap rate of just $20 to start.
This is a guest post written by Sean Cooper. Sean is a blogger and freelance writer who covers a variety of topics related to technology and communications.