Skype your mobile with iSkoot
I always like to use the candy features of the internet voice service straightaway to the mobile handset so that i can improve the connectivity and cutoff the mobile bills. iSkoot is a free mobile software that bestows the features of Skype to your mobile and sets you free out of your computer. You can call to your Skype friends with a simple click buttons over displayed contact lists. It have the robust ability to route your Skype calls over the voice channel that your Skype calls sound matches the quality of your normal phone calls.
Why should go for iSkoot ?
There are many solid reasons to go for iSkoot like receiving calls from Skype users is never so easy on the phones , managing your own online status is even simple that writing a SMS , quick call in simpler easy buttons ,easy chat with your Skype friends ,cutoff your mobile bills with low-cost calls to any phone number ,checking  SkypeOut credit balance in quit easy ,add or delete your friends from the Skype contact list in simpler way.
It supports various range of phones based on Symbian S60 ,Windows Mobile ,BlackBerry ,PalmOS ,UIQ3 which have wide range of  Nokia ,Sony-Ericsson ,Motorola and other manufactures. You can check the Motorola ,Nokia ,Palm Treo or Sony Ericsson pages to know more about iSkoot application settings in your mobile.

How to download iSkoot: You need a simple register on iSkoot website to get your free download of this application. First you will find your supported handset then fill out a simple form and you can easily download the iSkoot via mobile SMS or directly to your PC or you can get the download instructions over the EMAIL.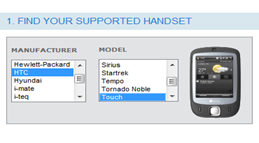 Note: You need to aware that you will not be able to receive calls while you have Skype Voicemail enabled though you can make calls. Moreover you can start maximum of 2-person chat sessions simultaneously from your iSkoot though you can take part in as many (3 ,4 or as you wants ) conversations initiated by PC users.