SlimPDF: World's Smallest PDF Reader
How many of you use Adobe PDF reader for reading PDF documents? There are two drawbacks of using it. First it is not 100% safe to use (it requires time to time update) and second it is heavy in size (26 MB approx). Also its behavior is too sluggish.
There is a free tool known as SlimPDF which is extremely light weight. Download and install it on your PC. This program is available for Windows users.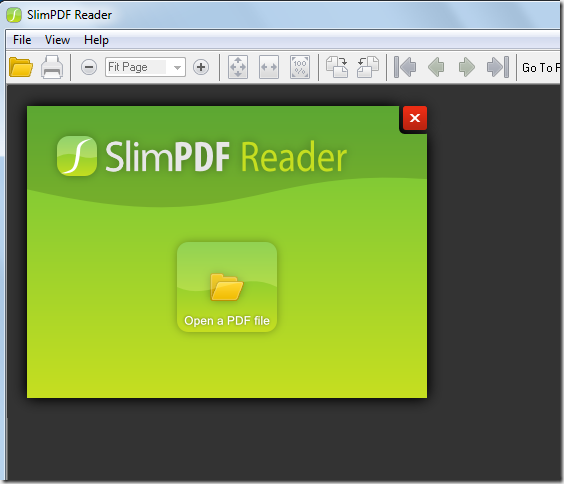 On installation, it asks you to register to get latest updates and offers. You can skip the step if you don't want to register. After installing, run the program. Click on the "Open a PDF file" button appears on the middle of the program interface to open any new PDF file.
There are many features available to customize the look and feel. There are tools like zoom, fit page, fit width, normal view, rotate, and many more.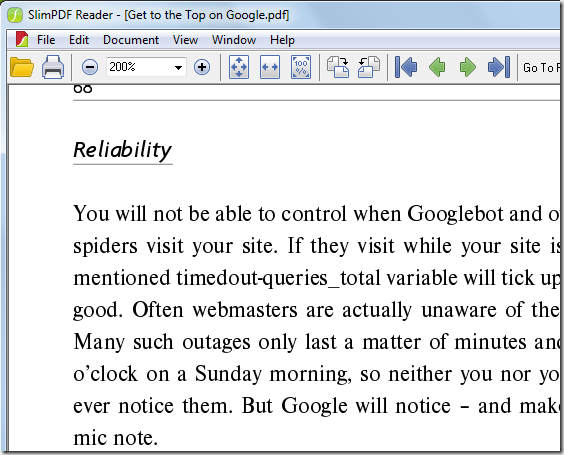 By testing this tool, I found it fast because of its light weightiness. Though it doesn't comes with lot more advance features such as PDF editing, split and merge PDF, PDF creation, Comment, review and collaboration, etc. but if you want an application for reading PDF documents only then SlimPDF is highly recommended.
You can also print PDF documents using this tool. Also it is totally bloatware free. Where Adobe reader comes at 26.12 MB size and size of Foxit reader is 6.73 MB, this tool has a size of 1.3 MB. One thing I'd love to see in future is portable version of this tool.
Download SlimPDF Reader, smallest size PDF reader.