Speed Monitor: Measure and Track Webpage Loading Speed
Speed Monitor is a portable application. It tracks the loading speed of different websites across a time period. Additionally, it provides information on intervals and averages in the last 10, 100, and 1000 tries. It also provides the graphical representation of the loading speed of the different websites.
To use the Speed Monitor, you must:
1.    Launch the Speed Monitor, and add the URL of the website that you want to track in a new row.
2.    In the Frequency box, add the frequency in seconds.
Note: By default the Frequency is set at 60 seconds.
3.    Click Enable Fetching.
This automatically starts monitoring the website that you want to monitor.
Speed Monitor Main Window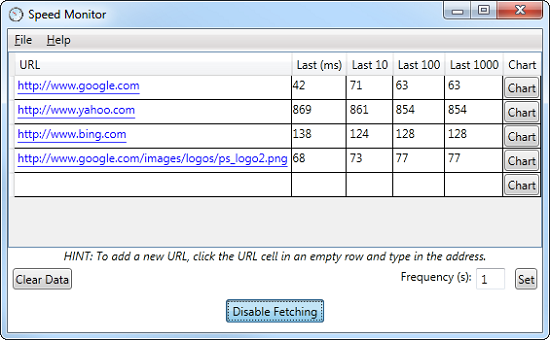 The Speed Monitor displays the URL that you are monitoring the loading speed in the last 10, 100, and 1000 tries as separate rows. Additionally, each website's graph can be accessed by click the Chart button in the corresponding row.
Speed Monitor Chart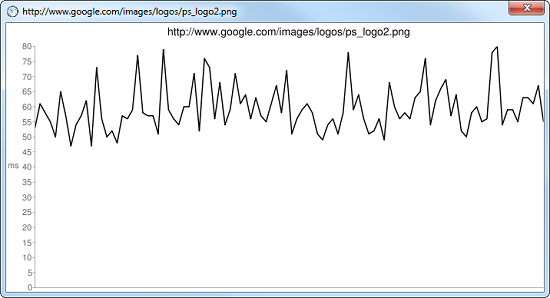 As a portable application it can be very helpful in analyzing the speed of the websites that you have developed or want to access. This helps in researching the SWOT analysis of the website. SWOT analysis including strengths, weaknesses, opportunities and threats involved in the website and the market.
Key Features of Speed Monitor:
Multiple websites monitor
Minimizes to tray
Editable frequency
Last 1/10/100/1000 averages
Enable/disable switch
If a website is unreachable, time turns red (and reads -1)
Automatic saving/loading of URLs
Charts of the last 100 measured times
Drag-and-drop for URLs
Easy data reset
Speed Monitor supports the following Windows versions:
Windows XP
Windows Vista
Windows 7
Windows Server 2003
Windows Server 2008