How To Sync Your TV Programs With iPad
Let's say you are watching a TV show on your TV and you have no idea about the show. You want all the information about the program such as its actors names, name of program, behind the scenes and many more. One way to do is to search on internet about the program.
But wait. If you are an iPad user then you can do these things as well as more in a cool way. I am talking about an iPad app that syncs your TV programs with iPad and provides you many cool stuff to do while watching television. It allows you to participate in real time with the show.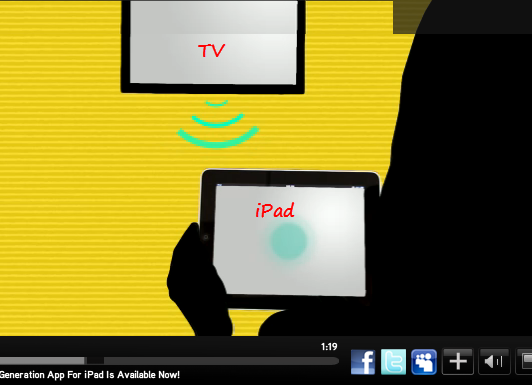 You can participate in polls and quizzes and get behind the scenes info. All you need to do is to connect your TV with the iPad via Wi-Fi. To use this feature all you need to do is turn on your TV, tune into My Generation, launch the app and hit the sync button to get started. This app uses Media-Sync Technology to identify what episode you are watching. You can use this app while watching recorded episodes of My Generation as well.
Here's a small video demonstration of this app.
Currently this app only supports ABC's media but the idea is really astonishing. Hope to get some more show syn so that we can enjoy our other favorite shows apart from ABC's My Generation. It will surely change the way people watch television.
Download Abc's My Generation Sync at iTunes.
For more details about iPad you can also look into ipad 2 specifications.