Top 10 Affiliate Programs / Networks A Blogger Should Opt For
Increasingly Affiliate Programs are becoming the best ways to make money online. In fact, 70% of bloggers deal with affiliate programs as it fetches handsome income. On the other hand, many newbie' are unaware of how to make money with affiliate programs. They may not even know how affiliate programs work. Well, the working is simple, you put an advert on your blog/website (assuming you have one), which advertises the product and services of another company. If your reader/visitors click on those ads or say make a purchase through your link then the latter company would pay you a percentage of sale or fix price on each lead that come from your site!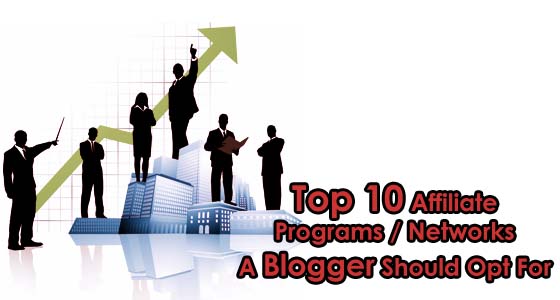 It would not be unfair to say that such programs have soon become the life blood of success for bloggers, webmaster, and people with internet business. But then you need to bear in mind certain things for getting those extra cash. Affiliate programs may not work if you don't do your homework before jumping. The two most important must check is –
Having related products is the first step to success. Especially if your blog is about a specific niche then make sure you opt for relevant products. Say for example, you have a blog with web design niche, so obviously your visitors will come hunting for web design related information. But in case your ads are about a "tuxedo suit" then, your visitor is less likely to click on your ad and make a lead.
Next most important things is to consider quality over quantity. Always care about the products that are listed on your site and make sure they are of high quality. This would lead your visitors to trust you and come back if they wanna shop more. This affects your traffic as well. There is a thin line between lucrative affiliate program and poor affiliate program. So, I have listed Top 10 Affiliate Program/Network that a blogger should opt for, to make money with affiliate programs .
Google Adsense – Anybody dealing with content based networks, Google Adsense is a must! This is highly recommended program as it is easy to use and you get highly targeted ads which are of course relevant to your blog niche. Just have your ads in place and your audience would do the rest!
Commission Junction – If you call yourself an affiliate marketer then it is understood that you have already own a CJ account. This program is beyond doubt one of the best to deal with. In fact, you can also call it the largest affiliate network on Internet. Wide and most excellent choice of advertiser can be done at CJ!
Ebay – Anyone one planning to add affiliate network to their blog must look at Ebay. It sells almost any kind of product/services that can be shopped online. Another thing is that Ebay is a global company, offering products from all across the world to market. You will find easy click through traffic for your blog just because of Ebay's brand name!
Amazon Affiliates – This is the oldest program around internet. As a blogger Amazon Affiliate Program will work superb for you, because it lets you place unique widgets to your blog/website sidebar and contents. Amazon Affiliates stands out in offering amazing holiday solution that is you can make the most money during Christmas and Halloween days!
ClickBank – Will do wonders if your blog is concerning digital product niche. It allows 75% commission for all the sales done. You can choose from more than 10,000 digital products and ClickBank is known for accurate tracking and high conversion rates. You get paid on weekly basis!
PepperJam Network – PepperJam Network is relatively new services across internet, but is swiftly moving on the popularity chart of online worker. PJN offers you unique alternative ways to advertise that many fail to provide. Their advertising model is very effective to get more leads and sales for any blog/website!
Azoogle Ads – This program has solid network and lot of potentials involved. Since its inception in 2000 it is offering different programs for publishers such as CPA and CPM programs. One feature that stands out, is their rewards program for top performing affiliates. Minimum prize would be $5000/month, which is something that is difficult for many affiliates to obtain!
Chitika Premium – Work incredible for content based networks. Note that ads with Chitika Premium are displayed only when someone comes to your site clicking on a search engine result. In other word, ads will be displayed based on search terms from which US visitors come to your blog. Advantage here is that you may get less impression but your click-through rates would certainly be greater!
Clickbooth – This is one of the advanced affiliate network comprising many quality and well-known advertisers. You are sure to take home highest payouts in the industry. Don't forget to go through their referral program as you can get good cash by referring users to Clickbooth!
XY7 Affiliate – It is well-known for offering online marketing solution via its affiliate programs. You are sure to locate variety of products/service to market with them. With cutting-edge technology you will certainly realize the worth of joining!
Of course great blogs and websites deserve to get most out of their advertisements and so you should try out these networks. Do share your experience with affiliate networks and let me know if I have overlooked some "top tier" programs!