Top 10 Basic Freeware Applications For Mac
There are handful of reasons why Mac rule over Windows and wins the trophy. Where Windows computer may look for a chance to annoy you each time, Macs just gets the things done in line. Well, some notable points would include consistent sleep mode, fast booting time, easier file sharing, no security software needed and most Mac applications designed are useful. In fact, Apple claims Mac OS X to be the world's most advanced operating system today. Built on a rock-solid UNIX foundation and intended to be simple and intuitive, it's what makes the Mac innovative, highly secure, compatible, and easy to use. Further Mac is known to be more stable and offers excellent graphical performance than Windows. Most of the people go with Mac could be because they have brilliant apps that not only helps to improve productivity but also make it simpler to work with. Here honeytechblog list out top 10 basic freeware applications for Mac to have best experience working with Operating system.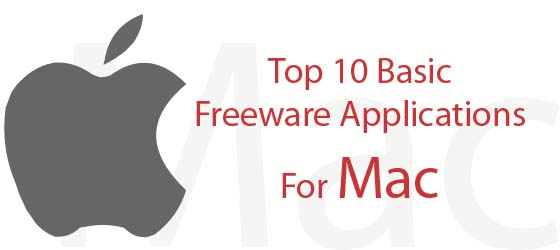 1.Firefox – The Web is all about innovation, and Firefox web browser sets the pace with dozens of new features, including the smart location bar, one-click bookmarking and blindingly fast performance. Firefox has security, speed and new features that will change the way you use the Web. Don't settle for anything less. Firefox has a massive add-on options that can be customized to your needs. It's certainly a viable alternative to safari.
2.Evernote – Evernote is my choice. This is an excellent application that stores notes, documents & images and further gives me the knack to access & search them from anywhere. It runs on Mac's, PC's, online & on iPhone, so regardless of where you are, you've got entrance to your required information. The best feature of Evernote is syncing, whether you carry one system or thousands – this will sync all together.
3.iSquint – Many new iPod users struggled to convert their favorite videos into the format that iPod could understands. Fortunately we then had iSquint a mini-app works with different formant such as .mp4, .avi, mov, .flv, .mpg, .wmv, and .m4v. iSquint offers you the simplest interface that would be like a relief for people who thought converting process would require great customization. You don't even need help documentation, it's just uncomplicated.
4.Adium – Adium the best IM program I've ever used. This is a fast and free IM client that supports AIM, Jabber, Google Talk, Yahoo!, Gadu-Gadu, Yahoo! Japan, Bonjour, Novell Groupwise, ICQ, MSN, Lotus Sametime and nothing more to mention. It is all-inclusive interface allowing tabbed chats in one window, file transfer, and skinned chatting. Give it a try; you would surely not look back.
5.TweetDeck – TweetDeck is an Adobe AIR desktop (Currently in public beta) Twitter application. Like other Twitter applications it interfaces with the Twitter API to allow users to send and receive tweets and view profiles. It is the most popular Twitter application and also allows users to split the people they follow into groups, a very useful feature to many users. It is compatible with several operating systems including Microsoft Windows, Mac OS X and Linux.
6.Gimp – You can't miss on Gimp if you are a Graphic Designer. This is the most popular photo editing software available that stands for GNU Image Manipulation Program. This offers great support and updated often so users can get away with basic tasks such as photo touch up, color editing, size and other complicated tasks as well perform. GIMP carries a scripting line for professional designers, including plugins, extensions, and other filters.
7.Picasa – Thanks to Picasa we are still not using iPhoto that manages our precious photos like cramp. It's such a great, handy photo editing program offering you to manage and store your photos in excellent way. Organize, search, display, and share is by all means possible with Picasa. It can be a best friend for a photographer.
8.VLC – I have been using VLC since long time and it is a beyond doubt a great player playing huge variety of video format without all bloat. It works superb with Mac and other OS such as Windows and Lunix too. Just get your favorite video without worrying about the format, VLC would do the rest.
9.uTorrent – uTorrent is the world's most popular BitTorrent client. Most of the features present in other BitTorrent clients are present in µTorrent, including bandwidth prioritization, scheduling, RSS auto-downloading and Mainline DHT (compatible with BitComet). Additionally, uTorrent supports the Protocol Encryption joint specification (compatible with Azureus 2.4.0.0 and above, BitComet 0.63 and above) and peer exchange.
10.Quicksilver – Quicksilver is an excellent app for Mac OS X, made by Blacktree Software and of course free. It is basically a graphical shell for the OS X operating system aimed at improving user efficiency. It also let users to use the keyboard for fast performing tasks such as launching applications, manipulating files and data, running scripts, or sending e-mail; all typical specialties of a shell.
Bonus 😉
Freedom – For those times when Internet seems like distracting than productive we have Freedom. Freedom is an application that disables networking on an Apple computer for up to eight hours at a time. Freedom will free you from the distractions of the internet, allowing you time to code, write, or create. At the end of your selected offline period, Freedom re-enables your network, restoring everything as normal.
The above listed apps are must-have for all Mac users to increase productivity and efficiency. These are my favorite free Mac application, what are yours?