Top 10 Flash Resources for web developers and web designers
Flash websites and flash components are always illustrious for there cunning, interactive and visual effects. On high end applications that calls external xml files or have extensive action scripts there is more chances of fuss and issues. You will either search on google or search on various web designs and flash blogs to get the resolutions and fix of the flash related problems. This article presents the 10 best Flash resources for web designers and web developers.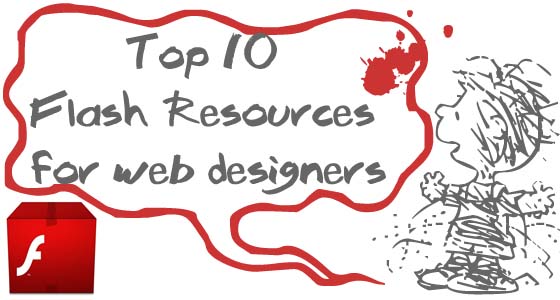 Top 10 Flash Resources for web designers
1. Flash.tutsplus – This is a blog/Flash site made to house and showcase some of the best Flash, ActionScript and Flex tutorials around. You get tutorials that not only produce great graphics and effects, but explain in a friendly, approachable manner.
2. Entheosweb.com – apart from great tutorials you also get web design resources including templates, background images, galleries, Flash games etc. Nice group of people letting you know everything about flash.
3. Learnflash – Whether you are beginner, intermediate or advance learner of Flash, learnflash has solution to all level. You can download free tutorials and learn via watching videos.
4. W3schools – w3schools is well known for all the design and development tutorials. It gives you an excellent step-by-step guide to Flash. You can't miss on this if you want to pro flash.
5. Adobe.com – This Adobe tutorial is especially designed for advanced learners who wish to know high-end ActionScript. Check out the latest ActionScript 3 resources to get started with or migrate your existing projects to the current version of ActionScript.
6. Flashperfection – This is another excellent tutorial to master Flash. Check out the menu to learn anything about Flash. 3D Tutorial is also available here.
7. Tutorialized – Anything you need to learn about design and development can be found with tutorialized. Do participate in forums for queries regarding any development platform.
8. Knowflash – Easy to understand tutorials for flash are available with Knowflash. You will find video tutorials for you to learn the simple way.
9. Entheosweb – This site is maintained by an enthusiastic group of people mastering in Flash. Learn cool Flash effects and basic Flash concepts with these simple Flash MX 2004 and Flash 8.0 tutorials.
10. Gotoandlearn – It's a superb guide dedicated only to Flash platform. You learn with all latest and easy techniques with go to and learn.