Top 10 Free Instant Messengers Clients For Mobile
Instant Messaging is part of our everyday life, we need it from catching up a friend online to sending up business deal to client in real time. There are many protocols like Yahoo, Gtalk, MSN, ICQ and AIM where you are allowed to chat with the other users. While desktop IM are common types, instant messengers for mobile phones can be great due to portability option. This gives you freedom to stay connected to IM network anywhere, anything. So, obviously when we look around for IM for mobile we desire getting the best. With that in mind, honeytechblog has compiled a list of top 10 free Instant Messengers clients for mobile phones you would certainly love to try out.
1. eBuddy – You will just fall in love with eBuddy once you are in. This is the most powerful and popular IM client for cell phones. eBuddy created the world's first, independent, web browser-based instant messaging service as e-Messenger in 2003. This web based messenger enables you to chat with your MSN, Yahoo, Google Talk, MySpace, Facebook, ICQ and AIM buddies. This carry many simple yet interesting features and there is no downloads, no installation or no registration required.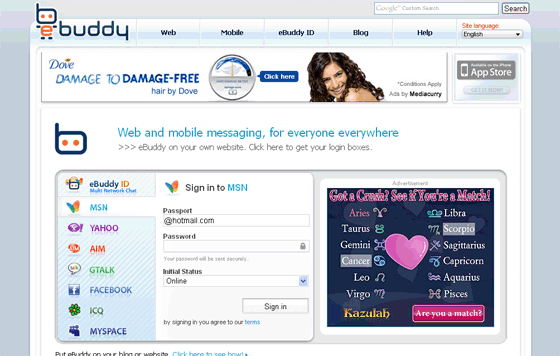 2. Meebo – Meebo lets users gather their friends on a single buddy list where they can communicate in real-time across different IM platforms, communities, and traditional social networks. Users can keep in touch with friends across dozens of IM platforms, including AIM, Yahoo!, MSN, Google Talk, MySpace IM, Facebook Chat, and more. eBuddy and Meebo are two major sites to access Instant messenger even if IM is blocked for your server.
3. Skype – I'm sure you would have already used Skype. Skype is software that enables the world's conversations. Millions of individuals and businesses use Skype to make free video and voice calls, send instant messages and share files with other Skype users. Every day, people everywhere also use Skype to make low-cost calls to landlines and mobiles. Skype also gives you chance for shopping and business online.
4. Fring – Fring is a mobile internet service & community that enables users to talk, chat & interact with other fringsters and their online communities, from their mobile phones. With Fring, you can get connected with your friends on various IM Network including Skype, MSN Messenger, Google Talk, ICQ, SIP, Twitter, Yahoo! and AIM. Other interesting thing about fring is that it allows you to make local and international calls and offer some nice add-ons such as Twitter and Last.fm for fun.
5. Slick –  – Slick is a messenger application for mobile devices. It allows you to chat with your friends connected though various online messaging applications. The supported protocols for slick are ICQ, Yahoo, AIM, MSN, Google, and Jabber. Text messaging, Emoticons, Alerts – sound, backlight, vibration, notify window displaying the number of new messages, Group and buddy management (add, delete, rename) are some of the features offered. There is no limitation on getting connecting to number of networks like some other apps. You could get connected to all networks at once.
6. RockeTalk – RockeTalk is the latest mobile community that allows users to meet new people right on your mobile phone. With RockeTalk you can connect to different IM Networks like Yahoo!, MSN & Google Talk. RockeTalk makes communication between individuals and groups easy and rich, and facilitates a new form of self-expression that informs, entertains and connects people through the media they create. Users can create any combination of text, voice, photo, and video messages, share with any contacts, join communities and chat with individuals and groups, and access a variety of entertainment and content.
7. Nimbuzz –  Nimbuzz is a new-generation mobile service, designed for the online age, making you more mobile. The multi award-winning Nimbuzz application enables people to enjoy free & low cost mobile calls, free instant messaging, social networking and other rich communication features, using the internet capabilities of the their mobile device. Social networks & communities supported by Nimbuzz include Skype, Facebook, Windows Live Messenger, GoogleTalk, Twitter, Yahoo!, AIM, MySpace, ICQ, GaduGadu, Hyves, StudiVZ, Giovani and others.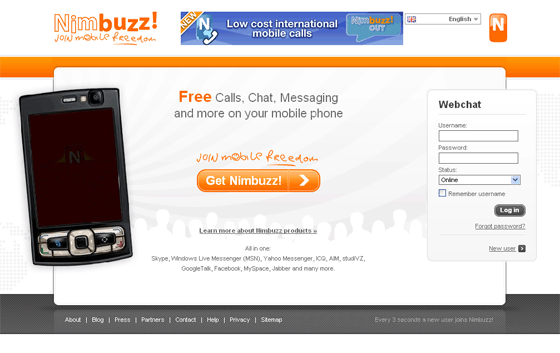 8. Jargong –  Jargong is another interesting IM Client allowing you to get connected with your MSN, Yahoo!, ICQ, AIM, Google Talk, and Jabber friends. It has many impressive features such as automatically imports contacts from the Instant Messaging networks you are using, set avatar, nickname, status etc. Further you have easy access to Flickr, Google Reader, and Twitter also.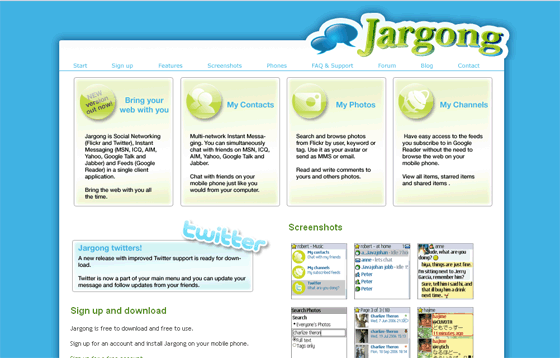 9. Agilemobile – Agile Messenger is one of the world's most feature rich and user friendly all-in-one MSN, AIM, Yahoo!, ICQ & GoogleTalk instant messaging client for mobile phone. You are allowed to send instant voice messages and pictures via Agilemobile. One of the interesting features is Video recording and then instantly sending it to any of your MSN, Yahoo, ICQ, AOL and Google Talk buddies. You can download free trial.
10. Miranda –  Miranda IM is a multi-protocol instant messaging client for Windows. Very light on system resources and extremely fast, Miranda IM require no installation and can be made to fit on a single floppy disk or USB drive. Featuring a powerful plugin-based framework and boasting over 350 plugins, Miranda IM is one of the most flexible and customizable messaging clients on the planet. AIM (AOL Instant Messenger), Gadu-Gadu, IAX (Inter-Asterisk Exchange), ICQ, IRC (Internet Relay Chat), Jabber, MSN, Netsend, Tlen, Yahoo and more.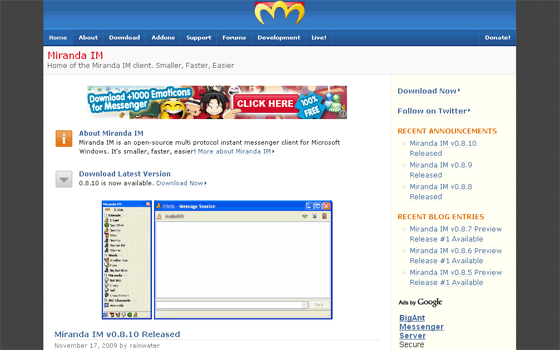 Functionality of IM might differ depending on the platform of your device. While having fun with these IM, if you know some more free IM clients you can share them with us.