Top 10 Government Sites Powered By WordPress
In case you are looking start of your web based or a CMS project, then WordPress is strongly recommended. There are many reasons why we love WordPress and believe that it is the best blogging/CMS platform on web today. Some of the reasons why honeytechblog is powered by WordPress are:
Its Simplicity
Trackback Feature
Auto Ping Functionality
Easy to Customise
Variety of Design Themes Available
Outstanding Plugin Functionality
User-friendly and So on
With increasing popularity many are choosing wordpress as the base platform for their project. In fact, toady you will find many .gov and .org sites are based on wordpress. Here, I have collected Top 10 Government Sites Powered By WordPress.
1. America.gov
America.gov is produced by U.S. Department of State's Bureau of International Information Programs (IIP), which engages international audiences on issues of foreign policy, society and values to help create an environment receptive to U.S. national interests. IIP communicates with foreign opinion makers and other publics through a wide range of print and electronic outreach materials published in English, Arabic, Chinese, French, Persian, Russian, and Spanish. IIP also provides information outreach support to U.S. embassies and consulates in more than 140 countries worldwide.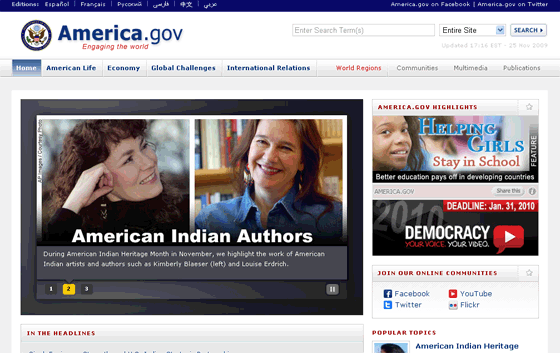 2. Congressional Budget Office
Congressional Budget Office blog is maintained by the director Douglas W. Elmendorf. He oversees the agency's work in providing objective, insightful, timely, and clearly presented information about budgetary and economic issues. The Director also supervises the numerous analytical papers and cost estimates produced by the agency, and he testifies frequently before Congressional committees. In managing the agency, the Director is responsible for a staff of about 235 people and an annual budget of roughly $40 million.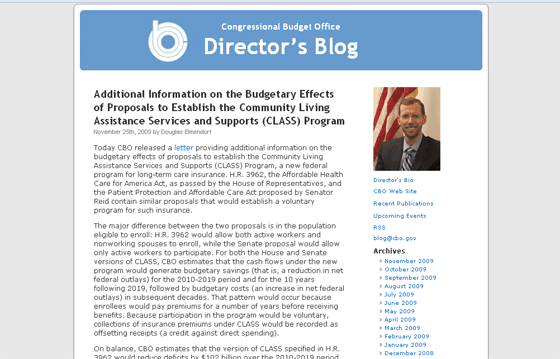 Blogband is the official blog of the United States National Broadband Plan. A great way to create a connected America is to involve all Americans in the development of a National Broadband Plan. The FCC welcomes civic participation, and also look forward to more interaction through this website as they new features and functions. Through this blog, broadband tries to help spread the word about the available and imminent plans and promote what FCC is doing to educate people about it. Blogband is also one of the FCC's major ventures into blogging and social media.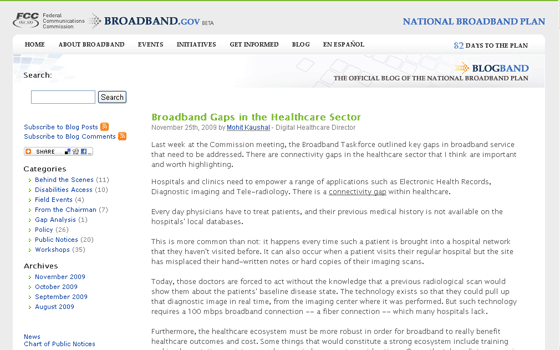 4. National Center for Preservation Technology & Training
NCPTT protects America's historic legacy by equipping preservation professionals with progressive technology-based research and training. NCPTT advances the application of science and technology to historic preservation. Working in the fields of archeology, architecture, landscape architecture and materials conservation, the Center accomplishes its mission through training, education, research, technology transfer and partnerships. NCPTT serves the community that fostered its creation and, in turn, serves the nation and the world.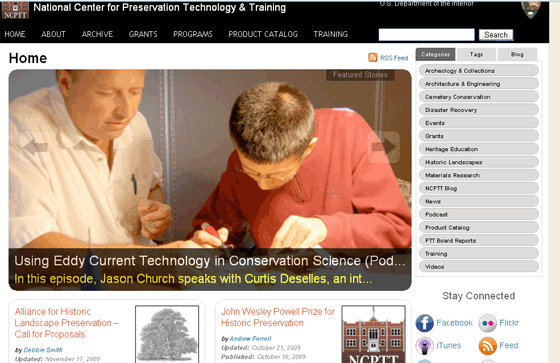 This blog belongs to Nancy Pelosi who is the Speaker of the House of Representatives, having made history in 2007 when she was elected first woman to serve as Speaker of the House.  Speaker Pelosi has proved to be a strong, pragmatic leader, unifying her House Democratic caucus more than any other leader in the last 50 years to pass critical legislation moving America in a New Direction after eight years of Republican rule. With Speaker Pelosi at the helm, the 110th Congress has built an impressive record that has focused on the priorities of the American people and brought needed change to Washington and across the country.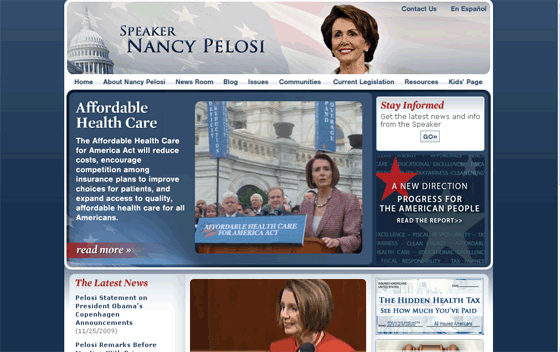 6. Official Site of U.K's Prime Minister Gordon Brown
This is the official site of the U.K Prime Minister's (Gordon Brown) office. It is the complete source of information on Prime Minister's performance and activity. The news feature will continue to be central to the site, allowing you to keep up to date with Prime Minister's work. The Number10 TV channel also provide a wealth of video material, photos updated quickly to the Number 10 Flickr channel, and he will also be posting frequent messages through Twitter to keep you in touch with his day to day activities. With this site he discover what are the current issues faced by the country and locates solution to it.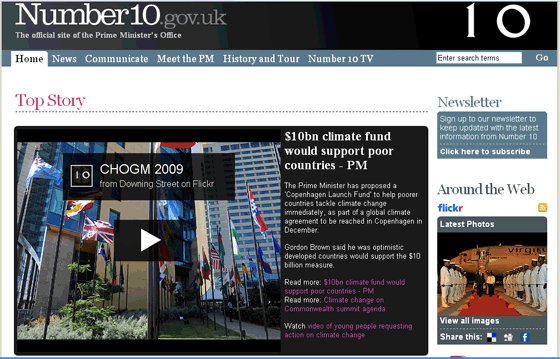 It is the official web site of the Brazilian Culture Ministry. Apart from daily updates, the sites shares huge information on Project support, Bids and Awards, meetings and forums and videos.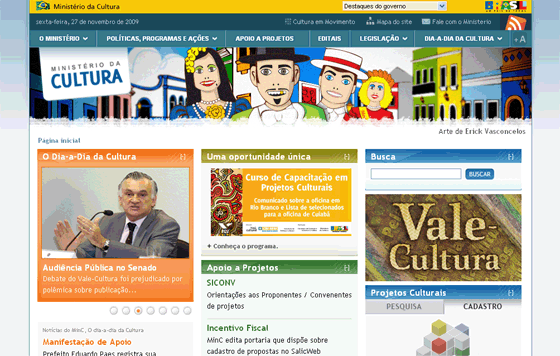 The Library of Congress (LOC) is the nation's oldest federal cultural institution and serves as the research arm of Congress. It is also the largest library in the world, with millions of books, recordings, photographs, maps and manuscripts in its collections. The Library's mission is to make its resources available and useful to the Congress and the American people and to sustain and preserve a universal collection of knowledge and creativity for future generations. The Office of the Librarian is tasked to set policy and to direct and support programs and activities to accomplish the Library's mission.
Directgov is an Directgov | innovate developer site to provide an innovative, collaborative, open source environment for Government and developers to interact, share new ideas and showcase work. The success of this space is dependent on open participation and the ability to have conversations around best use of government data, development of applications and use of new and innovative technologies.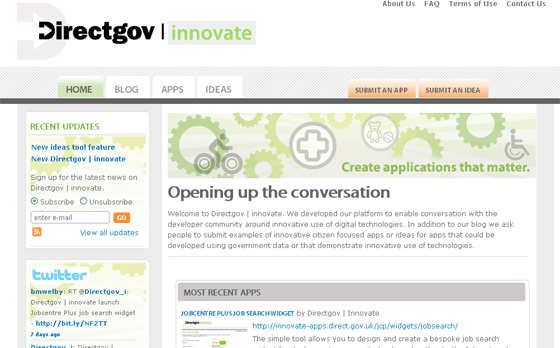 10. Power of Information Taskforce Report
This site offers report on Power of Information Taskforce. The Taskforce brought together a group from government, industry and the third sector who all share a passion for using ICT to enable better public service delivery. All members have contributed in a personal capacity rather than on behalf of their respective organizations and this independence of approach is reflected in our conclusions. The group has itself worked largely through web 2.0 tools – communicating as a web group, publishing our progress via a blog and RSS feed, and producing this draft report on a wiki.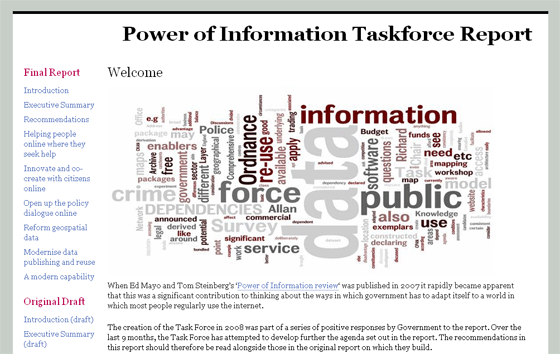 All these sites are powered by WordPress and doing a great job out there. Do share other wordpress based websites (only .gov) if you come across. Meanwhile, if you are a blogger then let's join hand together via Blogger on Twitter.