Top 10 Places for a Web Designer to Make Money Online
Web designers are blessed with awesome creativity and skills. That's the reason they are respected all over the world and almost every company today needs a web designer to maintain their e-portfolio. Being the most happening field, we have growing number of designers involved ready to display their talents. Designing is not only about creating websites, but it includes a board set of knowledge encompassing technical know-how, interpersonal communications, and most important the talent for design. If you are one having great designing skill then for sure you can ment handsome income per month. There are lots of companies online waiting for your talent, but you need to be careful choosing one. Because you will also come across sites that only pay you pennies for your hard and smart work. Often you would see offers bumping on you, but most are not worthy. So, honeytechblog has compiled a list of Top 10 places for a web designer to make money online which has free access!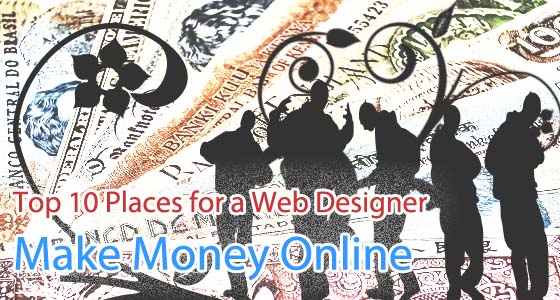 Freelanceswitch – FreelanceSwitch is a community of expert freelancers from around the world dealing with professional designer, developer, blogger, photographer, illustrator or virtually any other type of freelance business. Designers can find lot of good opportunity with freelanceswitch and even the ads remain active forever. Also take part in the forum to get some design advice from the experts. This site is certainly worth giving your time.
Elance – If you are looking to win couple of steady client Elance is for you. Here you would have to deposit $10 but it's refundable. You can find jobs that are extremely amazing and make handsome living if you exactly know what the client is looking for. Remember if your bid is accepted, you would have to go through an interview process. So have some handy samples ready before you approach this giant.
SmashingMagazine –  Smashing Magazine is one of the most excellent resources and job portal available for anything related to web design and development. Apart from being a great job portal for designer it is also renowned as design resource. Every day, literally thousands of talented, hard-working folks out there gain new insight from their work, come up with brilliant ideas and then share their experience with fellow designers. So learn and work goes together with SmashingMagazine.
CSSbeauty – This is a neatly designed website focus on offering its audience with a database of well designed CSS based websites from around the world. Job portal is designed to bring web designers and employer together under one roof. Here web designers can search and post Web design and development related jobs. You also get latest news and happening things on design field on CSS Beauty.
Odesk –  That's one of the best site available in the rush. oDesk is a global service marketplace for small and medium sized business to hire, manage, and pay remote freelancers or teams. Many designers also work for cheap rate, so make sure you check thoroughly before you apply. The site is well admired because it lets you to take thousands of various tests to display your knowledge on a different subject. So that both client and service provider as satisfied getting the deal done.
Guru – Guru claims to be the world's largest online freelance marketplace. Large and small businesses from all over the world in a variety of industries find the talent solutions they need here. But of course you can find job from the smallest card design to largest dynamic website project with Guru. This site is not only for designed freelance web designers and developers; you can find extensive array of different industries jobs to apply for.
Noagenciesplease – This is a well-known site among designers to locate some great listings. The interesting thing about noagenciesplease is that you will find lots of job listed that there are not from US, so a non-resident of US can expect some great projects here. This site is straight-forward with not much navigation, making the site user-friendly too.
Getacoder – You can find decent clients that can be held for long period with getacoder. Apart from designing and coding jobs, you find some great job listing for writing work too. In fact there are 17 categories to choose from whether you are offering or buying services this would include gaming, writing, web design and development, and engineering.
Programmermeetdesigner – The title says it all, this site was designed to club programmers and designers at one place because it is rare that we find a person good at both designing and programming. PMD helps programmers and designers meet up to create websites and other applications that work and look great. Again a great place for writers/blogger and entrepreneurs to join up and work together.
Job.Webdirections – This is another superb site for find web design and development related jobs. Whether you are web professionals, from design to code, or excel in IA to AJAX you can find related jobs here. Check out every day jobs in design that are listed and you are sure to find something great for yourself.
Work from home is buzz term these days and thanks to Internet that we have such sites created for designers to look for appropriate job that are worthy. On an average a designer/developer have chance to make money between $5000-$200 per month. Get registered with the above listed websites and start menting money 😉 with your great design work. Do let us know if there are any freelance development sites that aren't listed here in the comment section.