10 Social Media Tracking and Analytics Tools
No one can deny the fact that today social media are great source of valuable marketing tools. But tracking the social media could be relatively new term for many people. Keeping track of your scores on social media and content outlets on the web is very important. One needs to understand the fact that by tracking you can respond quickly so as on what people are talking about you or your product/brand. For example, a business would like to track what is been discussed about his brand across the web – are they creating a buzz or they are criticizing the product? So here, by tracking the most vital conversations about the business product/service, you get a better chance to identify the influential people in the niche, and to figure out the best way to work out on the flaws.
Note – You must first make sure on what you have to track, as social media comprises various kinds of tracking. Set your goals, do you need to track on how people are sharing your blog/website/social networks? Whether you are interesting in tracking any specific social media message/campaign? Or, you just want to track the real-time buzz across the web and more like that. So, as the requirements are different, there are different social media tracking tools to be used. And to list out the most important, honeytechblog is sharing Top 10 Social Media Tracking Tools that you must try.
1.Bit.ly – You already know how interesting this tiny URL shortener is and if you haven't tried it then go ahead you will fall in love with it for sure. This is a web tool that shrinks long URLs, along with statistical tools to track down the popularity of shortened links. Once you have an account there, it will be easy for you to track down the real time clicks that are made on those URLs that you shorten. Working with bit.ly is not only easy, but also fun to play with.
SocialToo – SocialToo can help you be a social networking power user. It let you keep your follower lists in sync across networks, and learn more about your relationships. Impressive features would include – creating surveys and sending them to multiple networks, track social media stats, auto follow, auto filtering and much more. You will also get daily email on who is following you and who unfollows you on Twitter. There is much more with this giant – get it now.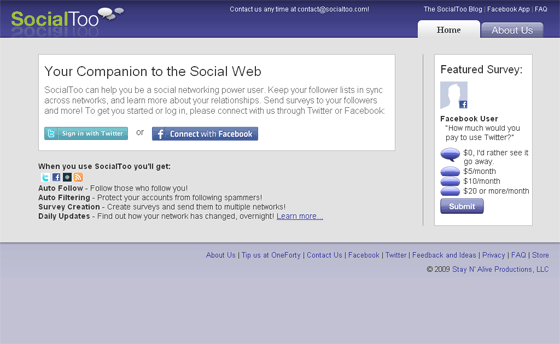 Twitteranalyzer – It is an interesting tool that helps to get all kind of statistic chart about you and your friends behavior at Twitter site. If you love using Google Analytics then this tool is sure to impress you. Some exciting features of Twitter Analyzer are – you can see how followers are online presently, who retweets your messages, what people are writing about you, Twitter following stats, your Tweeting habits and many more. It is pretty simple to use, so give it a try, I'm sure you won't regret.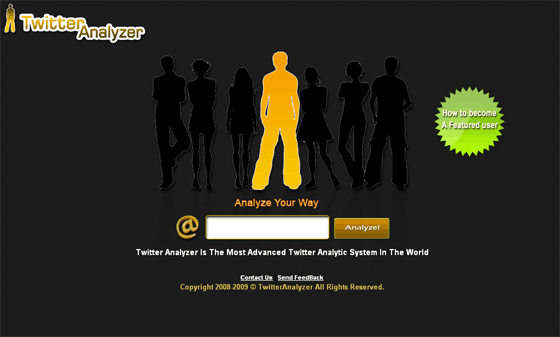 Xinureturns – This is one of the best social media tracking tool you would come across to get dashboard overview of your website on social networks and search engines. Once you run a report, you get the most in-depth information on Technorati, Googe Pagerank, Social Bookmarks, Indexed Page, Ranking and backlinks to your website. Just type in the URL and click "Go" there you have most of the report you would expect from Syndication to Screenshot.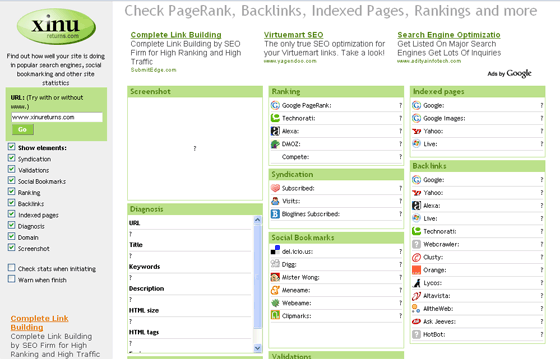 Tweetstats – Ever wondered how your twitter stats graph looks like? Well, Tweetstats is the tool helps you analyze your tweets in various ways in form of graph. Twitter graph would include your tweets per hour, tweets per month, tweet timeline and reply statistics. You can also graph of "Today's Top 10 Twitter Apps" and "Today Top @'ed Tweeps". Another cool feature you would find is TrendCloud option to locate which word you use most in your tweets. And then there is color change option for the cloud also, so go ahead check your graph now.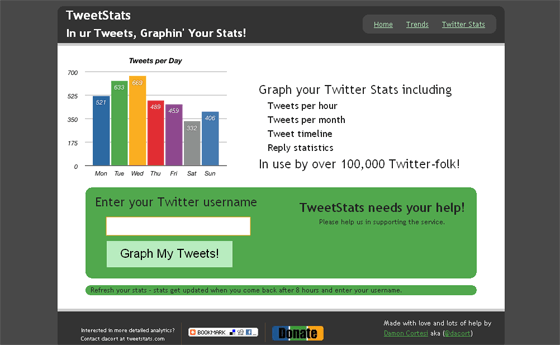 Socialmention – Social Mention is a social media search and analysis platform that aggregates user generated content from across the universe into a single stream of information. It allows you to easily track and measure what people are saying about you, your company, a new product, or any topic across the web's social media landscape in real-time. Social Mention monitors 100+ social media properties directly including: Twitter, Facebook, FriendFeed, YouTube, Digg, Google etc. Social Mention currently provides a point-in-time social media search and analysis service, daily social media alerts, and API.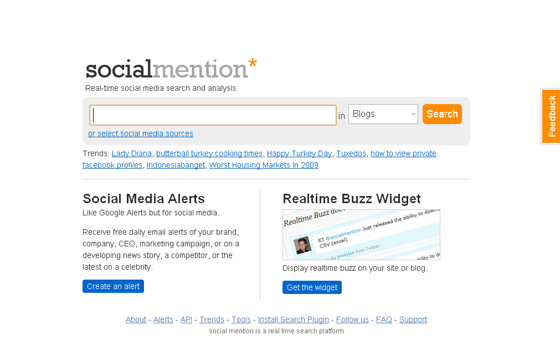 Twitalyzer – Twitalyzer is a free tool to evaluate the activity of any Twitter user and report on dozens of useful measures of success in social media. In other words, Twitalyzer is the tool that gauges your presence and popularity in Twitter. Some interesting features would be your virtual influence, Links to URLs, the signal-to-noise ratio, your clout, generosity, your tendency to share good info and tweets with others by retweeting and other useful measures of success in social media. All you need to try out this is input your screen and hit the button "Twitalize!"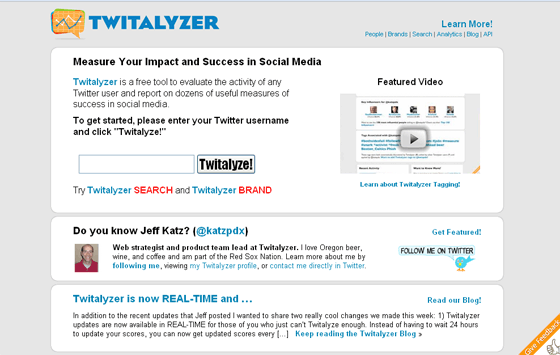 BlogPulse – This is an awesome tool for "buzz tracking". BlogPulse Trend Search allows you to create graphs that visually track "buzz" over time for certain key words, phrases or links. Compare search terms/links in isolation, or use all three fields to compare search terms/links against others. Use the Trend search to create your own graphs that plot "buzz" about specific search terms (issues, people, companies, brands, sports, etc.) in the blogosphere. Choose from three different time parameters—one month, two months or six months. Be creative!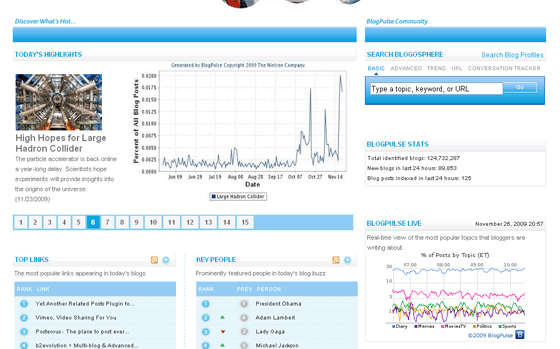 PostRank – PostRank originally known as AideRSS monitors and collects social engagement events correlated with online content in real-time across the web. PostRank gathers where and when stories generate comments, bookmarks, tweets, stumbles, and other forms of interaction from a host of social hubs. Publishers and people interested in their content use PostRank Data Services and Analytics to gauge influence and reach with audiences. It can do wonders for blogs/websites which are loaded with content.
Broadtracker – If you actively participate in forums then you would love this. BoardTracker.com, is an innovative forum search engine, message tracking and instant alerts system designed to provide relevant information quickly and efficiently while ensuring you never miss an important forum thread no matter where or when it is posted. Boardtracker brings the most targeted audience closer to the boards, by being a search engine only for boards and by supplying a categorized and highly effective searching and browsing experience to users. Create an account and get started.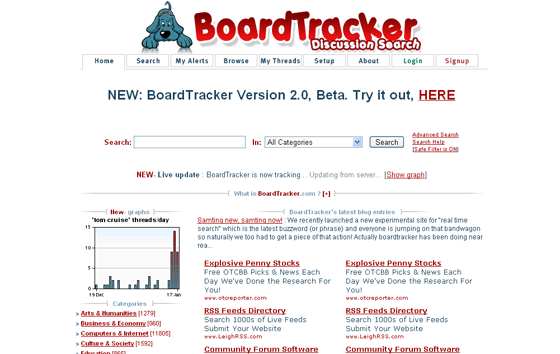 Some of these Top 10 free social media tracking tools I came across. If you know of any more we'd love to hear about them. Meanwhile, you can subscribe to our RSS feeds so that you don't miss out on any post and hey lets also meet up on Twitter.