Top 30 Places for a Writer/Blogger to Make Money Online
If you are a writer/blogger then the power of writing is known! They say "Content is the King" and why not, a great written copy carries all the abilities that a King has. But then writing can be a challenge – be it freelance/offline/online or any other kind. You need to put in your energy and hard work to make your web writing journey successful. If you Google around, then you will notice that many websites/blogs do not have skill to generate well written, interesting and impressive content. That is where a good writer is required. You may say that the online freelance industry does not pay as high as the print freelance industry, but it does have its own benefits. Some of the advantages are that you are free to write on hobbies, particular subjects and interest; apart from that even the payment is quick with web writing. Your work with online writing can get much easier if you know where exactly to look for. So comprising the list I have come up with top 30 Places for a Writer/Blogger to Make Money Online!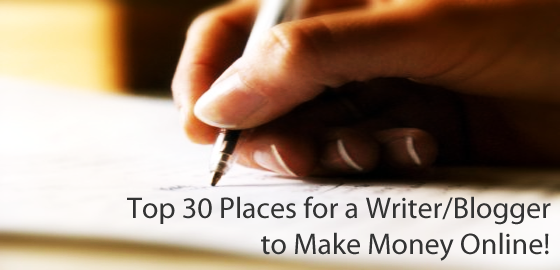 Client Based Website
Working with Client based websites is easy and interesting. Here you will find varieties of client that are looking to hire you. There are clients even willing to pay up $50 for an interesting and unique piece. Ghostwriting talents goes amazing with such websites, although people also look for Private Label Rights Articles, EBooks and other kinds. These are actually forums where you can scroll and look for threads called "Marketplace", "Services or "Buy/Sell". Here you are free to make your own offer, but of course make sure you have great samples attached!
webtalkforums
businessforum
Shell out for Content Website
There are wonderful websites that pay you for posting your content on their sites. Usually with these websites you need to post your content and wait for buyer to purchase the same. The minimum pay out could be $3 to $8 for about 500 words. Although, there are chances that some website might even pay you about $50 for well-written article. The article that you post on such website needs to be exclusive – meaning not to be posted elsewhere! Posting Ghostwritten articles for others will not be acceptable by these websites. After you post your content it would take about 2-3 days for the site to review and make the payment.
Revenue Sharing Websites
Following are the websites that will pay you on revenue sharing websites. Usually these websites will have ads posted such as Adsense, YSM etc and the revenue generated by such ads will be shared among you and the website owner on a percentage basis. You can post your own article, essays and other interesting topics. This is purely on the basis of click-through so the more your article gets popular the more revenue will be generated, leading you with more money!
You can make up to $100/day with your writing skills, just remember to use your knowledge, interest and hard work. Writing need not be complicated always; even simple piece of article can serve the purpose at times. In fact people would love your copy if it is simply understandable and unique. There are several ways to improve your writing journey, I would discuss it soon in upcoming articles! Happy Writing!