List of Top 50 freewares
Our daily life is overloaded with lots of freeware as almost 80% of internet users can't afford to buy paid software's. Do you ever buy any software for personal use like listening music or browsing websites? (May be Yes but chances are below 10%), Guess what if Firefox,Internet explorer or Chrome is paid ?
In a basic concept we often confused about the freeware, open source , free software's , shareware and paid software. First of all freeware is a software offered free of charge and can be easily downloadable off of the Internet. Some software's that are free but requires the user to view ads while using the program then it can't be declared in the class of freeware but its actually is a adware. Moreover freeware is also different from shareware which have specific duration of trail period and requires a payment after the expiration of the trial date.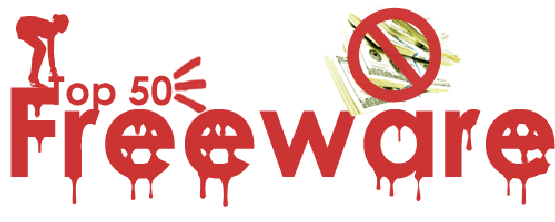 What is the intention of this post?
The purpose of this post is to let you know with the top 50 freeware that can freely boost up your performance and can be easily used in day today life without losing any experience or money. This list has the top performance  free applications for general function like movie players ,antivirus ,photography applications ,dictionary ,browsers ,messengers ,downloader's and several other uses.The list is as follows:
Apple QuickTime
Glary Utilities
Internet Explorer 8
Note: I didn't write any description of the applications as they are very common but if you want to know more than feel free to drop in comments.Moreover if you know any better applications then also drop in comments, we would like to introduce that application under your credits.