Top LinkedIn Applications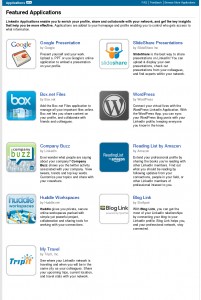 One of the largest professional networking service LinkedIn announces the applications API i.e you can add different famous applications on your linkedin profiles.Some of the common benifits includes Promoting your blog and develop your personal brand,Sharing your valuable presentations,application to manage all your important files online,Various twitter activity associated with you and your company,See where your LinkedIn network is traveling and when you will be in the same city as your colleagues,various secure online workspaces,Extend your professional profile by sharing the books you're reading with other LinkedIn members etc.You can find List Of applications here.
With Linkedin Applications you can present yourself and your work in new ways.
Google Docs on LinkedIn: Embed a presentation on your profile.


SlideShare on LinkedIn: Share, view and comment on presentations from your network.SlideShare.net Applications

Work collaboratively with your network via Linkedin Applications
Huddle on LinkedIn: Private workspaces to collaborate with your network on projects.

Share information and keep up to date with your network.
Amazon on LinkedIn: Discover what your network is reading.


TripIt on LinkedIn: See where your network is traveling.

Gain key insights that will make you more effective.
Company Buzz by LinkedIn: See what people are saying about your company.

Source: from Linkedin Mail and You can find List Of applications here.