Tweet Long Sentence With TweetThisText
Twitter.com one of the largest micro blogging networks but it's limiting by characters. Normally, you can input or share 140 characters. Unluckily you can't share everything within 140 characters. Even you can't extend the characters from settings — it's by default. Alternatively, by using TweetThisText bookmarklet you can cross the limitations. It's easy and free too and without any registrations you can enjoy it.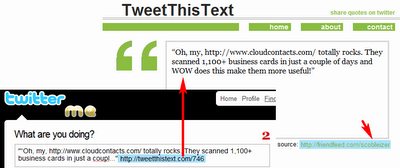 Before to go forward, TweetThisText (drag & drop on your bookmark area) and go to any websites and select any long sentences or any text which may more then 140 characters. Then click on the bookmarklet — it will redirect to your twitter account. Login to your twitter account and this twitter will generate some text plus a unique link (e.g. http://tweetthistext.com/1278) which one will carry the long sentences. Enjoy.