TweetDeck comes with multiple Twitter accounts ,Spam protection and Sync – Backup features
Last version of TweetDeck brings lots of bugs fixes but finally in latest version (0.26.4) it reloads with most lacking features of managing multiple Twitter accounts, anti spam, Syncing and Backup TweetDeck settings. I'm using TweetDeck from more than 9 months and feel it like the best Twitter desktop client available in the internet.
Managing Multiple users
Most of the blogger, PR agencies , consultants and other guys have various tweeter accounts. Now, you can enjoy the power tweets with an option of choosing your desired accounts.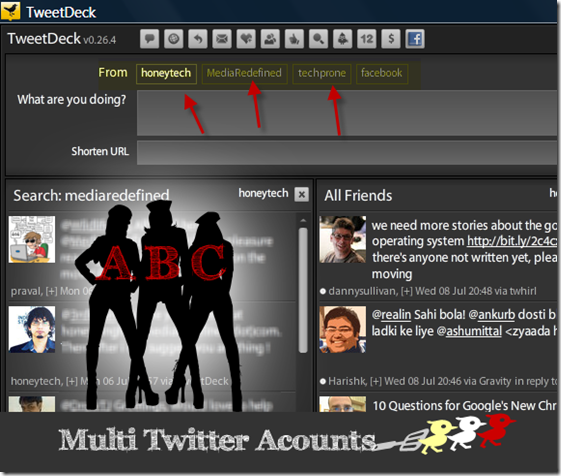 Anti Spam
Spamming is the most common problem in twitterberry and we often find the frustrating tweets suffering from spams. Now, you can avoid all those useless tweets just from single button click.
Sync and Backup
Customizing the groups, channelizing the search and managing the different columns takes time in TweetDeck and it all depend on the time spend over research work. Now you can sync all the TweetDeck setting and create an online backup so that you don't need to have headache of deleted groups and accidental crash.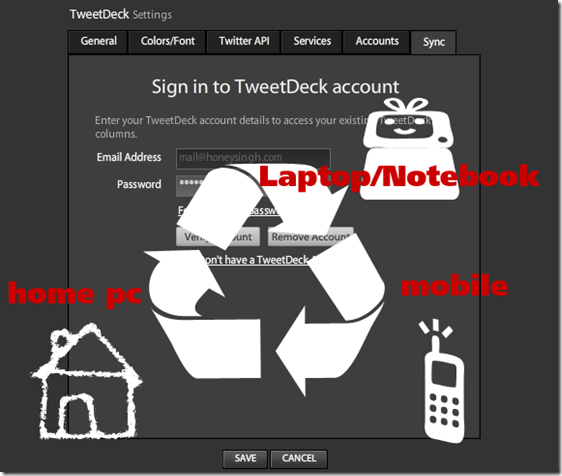 Their are lots of other inbuilt features in the TweetDeck which differentiate it from other applications. Moreover Tweetdeck is also available for the iPhone users and you can also download it for free.