Watch Your Calories with MealSnap on iPhone
MealSnap is a new application that works for iPhones. As the name suggests using MealSnap you can take a picture of the meal that you are eating. After the picture is taken the app can do a calorie count on the food that you have picked. The calorie count will help you make a decision on if you really want to eat the dish that you picked out or if you would like to go with some other option.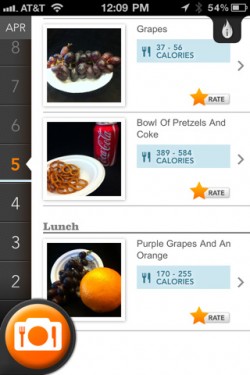 DailyBurn, the fitness social network, developed this application. The idea is that this application can help you find food that is both healthier and less harmful for your body. Also, it can help you pick the food with actual facts on the calorie count. The database contains nearly 500,000 items including meals and food items. The application picks information from the picture and then matches it with the options available on the database.
You can also share this information to your friends and family using Facebook, Twitter and Foursquare. Involving your family and friends can help you develop a support system that eats and encourages you to eat healthy.
MealSnap is available for download at just $2.99. The general idea with this application is to encourage fitness and health. Nevertheless, it is important to remember that it is finally your choice on the kind of effort you want to put in to stay healthy.