Web-based IM Is Coming In Windows Live Hotmail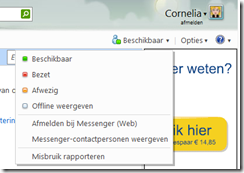 Web IM is coming to Hotmail. In last month, it's already available for the users of France, Italy, Japan, Mexico, Spain, and the UK and from today it'll roll out for Brazil, Canada, China, Germany, the Netherlands, Norway, and the USA. Lots of country still not listed but the team working for it and will make this web based instant messenger available for the whole world with in a few months.
You can use Windows Live Messenger desktop clients and shortly you can enjoy IM features on web. If you have more than one Windows Live ID, you can sign in to web Messenger and regular Messenger at the same time, with different IDs. Don't worry, people can only see your availability if you've agreed to be their Messenger contacts. You can sign in and use Hotmail or any other Windows Live service without signing in to web Messenger, so nobody can start chatting with you until you decide to let them know you're available.