Web Hosting Choices in the Marketplace – Some tips & Overview
Whether you're looking for a versatile web hosting platform or simply the best web host available, there is no shortage of enterprise web hosting services. Still, it can be confusing trying settle on a single web hosting provider for your company. Actually, just sifting through the many features that every provider has can be enough to stress you out. In our previous posts we have told you about the common mistakes that we often do before choosing any web hosting service provider & how to choose your web hosting according to your requirement. Here is a list of some of the top web hosts, and a quick breakdown of what each service provides.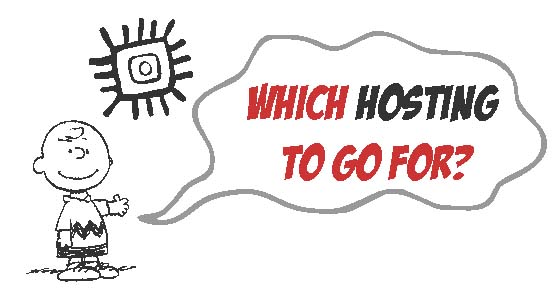 GoDaddy
Among the most popular web hosting services, GoDaddy offers a series of low to mid-grade web hosting services. They generally offer three tiers: Economy, Deluxe and Premium. Each tier comes with its own set of features. Determining the right level largely depends on your hosting and bandwidth needs. Depending on your website, you can purchase anywhere from 5 GB of bandwidth to unlimited storage.
BlueHost
Most BlueHost service packages come with unlimited storage and unlimited bandwidth. You can sign up for the service for as low as $3.95 per month. They do require a minimum three month commitment. In addition to unlimited bandwidth and storage, the packages come with a free domain registration, a free site builder and support for CGI, Ruby, Perl, PHP and MySQL.
Network Solutions
Another versatile web hosting provider, Network Solutions has hosting packages on the individual and large enterprise levels. Network Solutions also provides support for WordPress hosting and content management systems (CMS), as well as SharePoint and VPS hosting platforms. The packages are divided into three tiers of pricing- Small, Large and Unlimited. Small gives you limited storage and bandwidth, but Large and Unlimited give you massive amounts of storage and bandwidth for heavier-trafficked websites and multimedia-based blogs.
Just Host
Just Host offers lower-end hosting services for smaller individual websites, and small to mid-sized business or corporate websites. Hosting packages start at around $4.95 per month, and come with unlimited bandwidth, data storage, email accounts, MySQL databases, and a series of free services for website management. This includes a free website builder, and a free domain name registration. They also boast an anytime money-back guarantee, as well as an instant setup of your domain and web hosting service. You can also use a series of website promotion services. This includes free advertising credit for Google Adwords, Yahoo! ad credits, and Bing ad credits.
GreenGeeks
GreenGeeks is another low-cost web hosting service geared towards individual and small business websites. It offers unlimited bandwidth, data storage, email addresses and domains. You also get free marketing credits and a free domain for life. They also boast eco-friendly hosting technology.