How to choose your web hosting according to your requirements
In my last article on the common mistakes to avoid before choosing any webhosting we discussed about the 7 rules which decides the quality and the efficiency of hosting service providers. You should look over the previously described details of the 7 factors like Uptime , CPU-Limit ,Money , Data Center ,Support,Accepted user policy (AUP).
In this article we will point out some common suggestions for the requirements of web hosting. These different suggestion includes if you need hosing for the simple site , if you need hosing for the simple blog or web hosting for the blogs transferred from the free services like wordpress.com or blogspot.com , if you need hosing for the semi dedicated business or you need a secure data center for highly critical transactions portals. All needs of web hosting depends upon the requirements, for examples
If you only need hosting for a simple 5 page static web site then you should go for local hosting provider who charge you less than $1/month.
If you are shifting from wordpress.com or blogsot.com then hostgator baby plan is best for you.(Starting with $4/month)
If you have heavy traffic blog or small business website then hostgator's business plan is best which also comes with free dedicated IP and Free private SSL together with unlimited hosting and bandwidth. (Only drawback is the maximum limit of 25 process at a time)(Charges around $14/month)
If you need hosting for SVN or remote code backup then any un managed VPS is beneficial for you.( Charge around $10-$20 for un managed)
If you have heavy secure and transaction business portal then you definitely needs a dedicated and managed hosting. ThePlanet is the worlds popular Data Center and hosting provider, Hostgator is even a client of theplanet. (Charges of server starts from $70/month to the limit of your pocket)
Why i like the Hostgator?
You may think that i'm bit biased but from the last 3 year of experience, the guys have best customer support, which matter's most before choosing the web hosting. Moreover the guys are fast in social media (where they are quite transparent to the customers for their drawbacks and try to resolve the issues as soon as possible), you can follow them @hostgator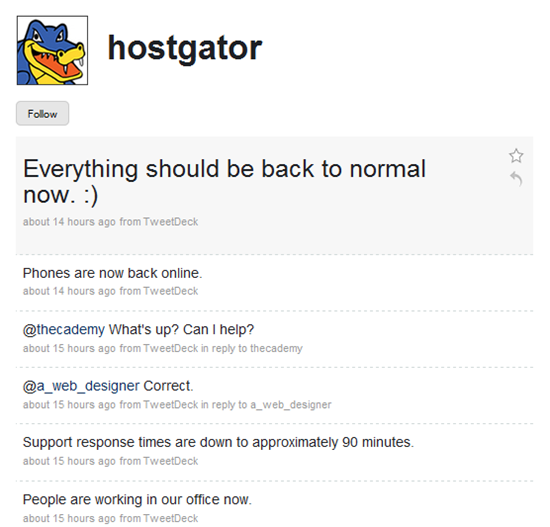 Note: If you are planning for any reseller hosting then hostgator's aluminium plan is the best option to start with. Reseller hosting is a nice way to earn extra bucks online.( Will publish the article soon on how i use to earn $1000+ per year per account on the investment of just $25/month per single account)
If anyone have issues regarding there hosting then feel free to discuss here in comment.