Web Search Engine Inside Gmail Account
Google's Gmail Labs brings another one splendid features, without opening a new tab in your browser you can search for a query directly inside your Gmail and as well in your messages area you can directly copy and paste or alternatively drag&drop links to messages area. Whenever you need to share any information, you might don't know the critical url or have approximate idea, you can try this options to get accurate links from Google engine.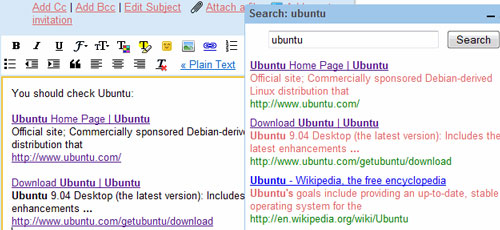 "The feature is useful for navigational searches, when the top result is usually the best answer and it's not necessary to click on the result. Gmail should extend the dialog for creating links with the option to pick from search results. Maybe a future iteration of the Gmail Labs mod will include results from specialized search engines: images, videos, local businesses, maps, products etc. The samples that are available for Google AJAX Search API illustrate some other potential uses for clipping search results" – says Alex. If you wants to enable this new labs, you have to settings and Labs tab and search "Google search", enable it and finally save it. It will be visible in action within a few minutes.