Webroot Launched Mobile Security App for Android
If you have been wondering how to protect your android device against malware, insecure applications and dangerous website then here is something of your interest. Webroot, the first Internet security service company has launched a new mobile security application that is particularly designed to protect Android™ smartphone and tablet. Along with malware protection it also helps you recover lost phone and block conversation that are unwanted.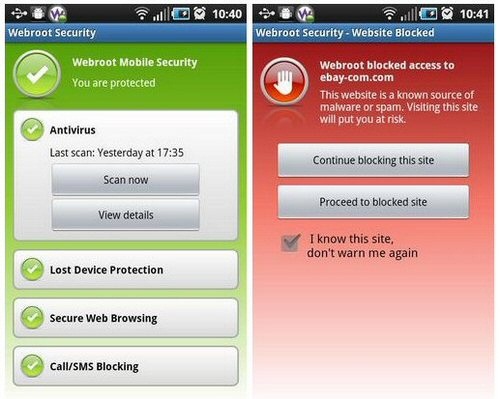 Webroot Mobile Security Application Features:
Runs on both Smartphones and Tablets
Scan apps for malware before installation
URL check to block phishing spam
Analyzes applications for privacy concerns
Identity-Protection Features
Sends temporary access code to a trusted friend when password lost
Map showing when your deceive is located
Sound alert to locate the tablet/phone
Block calls and text messages
Fast and lightweight
Webroot Mobile Security for Android is currently available at Best Buy retail stores in the United States. The cost is $14.99 per year. A free feature-limited version is available on the Android Market.