When In Rome , Do As The Catalans Do!
Image by
Getty Images
via
Daylife
Confused???.. I am so sorry.Actually St. Ambrose's phrase is "When in Rome , Do as the Romans do".But I feel whosoever saw that encounter will agree with me that the Catalan giants re-phrased it .
It was an epic night with several acmes.A city built on hope and drama – Rome.An arena by the beautiful river Tiber – Stadio Olimpico.Two best sides in club football – ManU and Barca.Two best players in the world – Ronaldo and Messi.Two managers – one iconic and the other, icon in the making.Most importantly Aadi and I on the same side for the first time in one year after our sides lost in the semis 🙂 .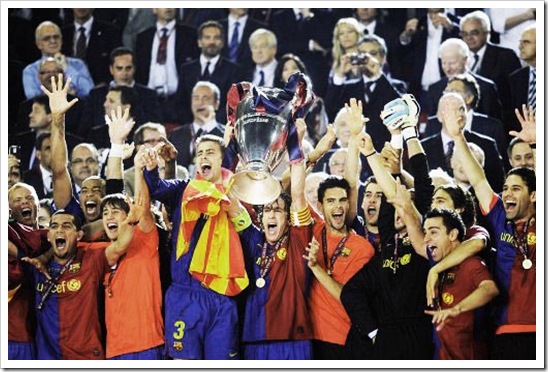 The buildup to the finals had summoned overwhelmingly generous speculations of this and that happening.And it proved to be one where if not all some did come true.Manchester United began in a grand style and the Catalans for the first 5 minutes looked out of sorts.Ronaldo in his own mercurial manner rocked Victor Valdes with his one of a kind free kick and Barca survived.On the other hand Messi was still lingering in the shadow of tall and strong ManU defence.
I admire football simply because of its 'you-blink-and-you-miss' turn of events.Out of nowhere Iniesta got hold of the ball and before you could blink, his sublime pass found Eto who blasted past Van Der Sar.Barcelona lead 1-0. The Catalans now were growing in confidence and even the red devils from Manchester were looking lackluster in front of them.All the speculation of Manu's overdrive mode of football getting better of the Barca side had gone in the trash.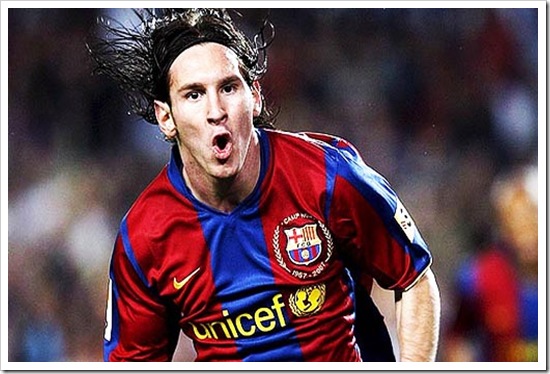 Quality of club finals are generally inversely proportional to the momentous situation as no side tries to be extravagant in their approach and tend to be a bit defensive.If you have this perception you better correct it.Barcelona is not such side.Their style of football is like the symphony by Mozart.They flow like a rivulet – pure,clean,brisk.
Many fans also termed this encounter as the personal battle between Ronaldo and Messi.Undoubtedly Messi was the winner.No disrespect to 'Ron' but 'Messiah' was spectacular and he showed his inexplicable brilliance throughout the game.The pinnacle came in 70th minute when the 5 feet 7 inches tall Messi showed the world that he is no less lethal in the air as well, as he headed past the ManU goalkeeper.It was game over for the team from Manchester and their millions of supporters.And the Catalans became the King of Europe.The TITANS of Europe.
And Aadi and I embraced each other in joy as if our own teams(Arsenal and Chelsea respectively) were champions now .
I hope and I dream, there is always next time.