WheresMyStuff – Find Anything Instantly On Your PC
Are you tired of using the complex search utilizes that halts your system or brings it to a idle state? These software programs are tightly coupled with the operating system of your computer and thus eat up most of your memory when you use them to search for a file. There are also much lightweight search utility software available in the market today and Where's My Stuff is one such simple yet efficient software. This new tool guarantees faster searches without eating the precious memory of your system. Where's My stuff is similar to other light weight search utilities like Locate32 and Recollect Desktop. WheresMyStuff is a very fast, very simple to use, full-featured file search tool for Windows PCs. It will save you time, eliminate the headache of "lost" files, and help organize your work. With WheresMyStuff, you can find any of your files in a few mouse clicks.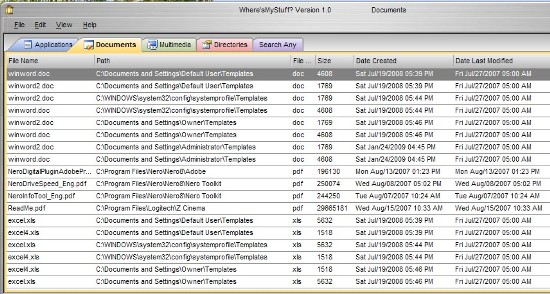 The stand out feature of this new tool is that it allows the user to go ahead with the search even though the index is not completely constructed. This is not the case with the other two tools mentioned above. The tool is available for a trial period of 15 days after which you need to purchase a premium license. As of now, the full time license for the tool costs around 99 USD. The credits to this software can be completely owed to its developers who had come up with most efficient and optimized indexing algorithms that ensure no search takes a longer time. The tool takes less than a second to complete the search once the index is built. It does not lock the user during its index building time as well.
WheresMyStuff was designed to meet three main needs…
Vastly reduce typical disk indexing time.
Find any file on any disk instantly.
Create any search in a few keystrokes.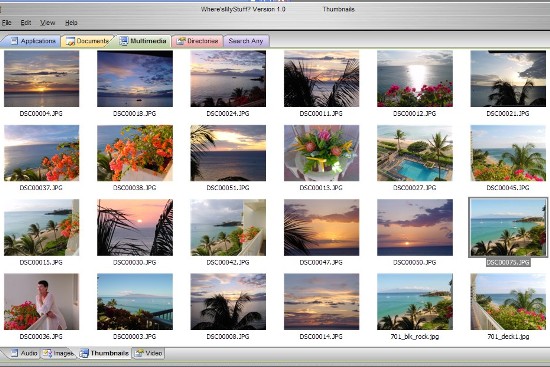 Interesting Features of WheresMyStuff:
Super-fast indexer – only 5-6 minutes for a typical disk
Fast file search – 1 second for most searches
Unique Timeline search – graphically select the time span to search
Tabs – organize your files by type
Directories – find directories by name. No more drill-down!
Multiple search criteria – combine 4 types plus time and disk
Images – view files quickly with thumbnails; see larger images with preview
Skins – select one of four cool skins
Music files – select across directories, by album, title, artist, or genre
The app also had special tabs other than the default filters that are available. It also allows you to search files that are modified or that has been created within specific time. Thus the tool provides more features than normal search function. Though people feel it's a bit costly compared to other apps, yet it is no doubt that Where's My Stuff is worth for the money paid.