Windows 7 Guide: Up gradation and Installation
Windows 7 is the latest version released by Microsoft for personal computers, which include laptops, desktops, tablet PCs, media center PCs and netbooks. Windows 7 or W7 is mainly developed to be compatible with the hardware and applications with which the Windows Vista was not compatible before.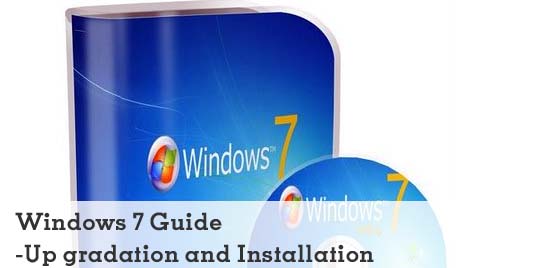 Windows 7 has some interesting applications like WeatherBar, Batch Image Resizer, Media Slider and Glow Button and MP3 Player for Windows 7. And some of the new features introduced in to Windows 7 are Windows 7 TaskBar with TaskBar Timer and Event Application for TaskBar; Windows 7 Folder Security; Triggers such as Service Trigger Editor and Programmatically Trigger Services.
Other new features included in W7 are handwriting and touch recognition, virtual hard disks support, Direct Access, improvements on kernel, improved performance on multi-core processors and improved boot performance. Control panel is added with many new items such as Display Colour Calibration Wizard, Clear Type Text Tuner, Gadgets, Recovery, Troubleshooting, Workspaces Center, Credential Manager, Location and Other Sensors, Biometric Devices, Display and System Icons.
Upgrading to Windows 7
You can install Windows 7 in the system, that has Windows XP or Windows Vista already installed. Another simple method will be to purchase a PC that is already loaded with Windows 7.
Installation can be done in two different ways:
1.    Formatting and installation of this operating system will remove all the files from the system and will replace it with the fresh installation of Windows 7. Hence, you are advised to take few copies of your files and settings so that it can be stored back once Windows 7 is installed. You will also require reinstalling of all the applications.
2.    You can upgrade to Windows 7 without affecting the files, applications and settings that are already loaded in the system. But this is possible only under some criteria.
Out of the above two options, up gradation of W7 is the easiest method. This option is available only with this operating system when compared to the Windows Vista edition. Unfortunately, Windows XP requires fresh installation of Windows 7.
The following system requirements must be fulfilled before up gradation of Windows 7:
•    1GB RAM(32bit) or 2GB RAM(64bit)
•    1GHz 32bit(x86) or 64bit(x64) processor.
•    DirectX 9 graphics device with WDDM 1.0 or higher driver (for Aero).
•    16GB available hard disk space(32bit) or 20GB(64bit).
Things to remember before performing a clean installation of Windows 7:
1.    A backup of all important files must be taken. For example, documents, photos, music files, messages and address book in email application, bookmarks/ favourites in web browser and other required files.
2.    The Windows Upgrade Advisor gives an idea if any of the hardware and software you have should work with Windows 7.
3.    Make a note of the applications that you would require after the installation is complete.
4.    You can also check with the manufacturers of the software and hardware to know if it is compatible with Windows 7. You can check with the model in the case of hardware and for the version in the case of software.
5.    Application settings that were done earlier will have to be redone after a new installation is done.
6.    Access technology must be checked for compatibility.
7.    You can also take a backup of the settings and files manually with the Windows Explorer or by using the backup option from Start/ Programs/ Accessories/ System Tools.
The above points would be very helpful for those computer users who would plan to install Windows 7 in their system. Taking a backup of the important files must be the basic idea before up gradation or installation of any operating system in the computer system.