WordPress.tv – Tapering the way you blog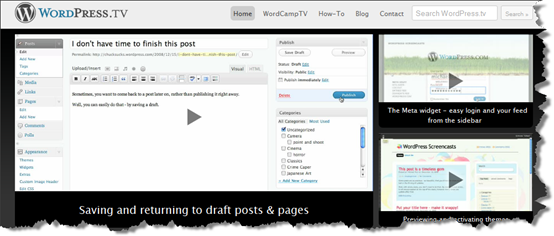 CODE IS POERTY- the tagline of the worlds best opensource blogging application i.e.  WordPress. Do you know automatic propel  its new visual eye of wordpress and tag it out into an official wordpress.tv.It is an aggregations of slideshows of presentations made by professors of  Automattic and other WordPress drawing cards.
WordPress.tv provides how to tutorials for blogging on wordpress in a simple way it helps in tapering the way of your blogging.It also furnishes  WordCamp events happening all over the words. In a bare words its an awesome platform to engage the wordPress community.
So you need not to worry if you want to  developing WordPress Plugins or, inviting your friends to WordPress.com , Changing your default media settings , customizing your writing settings or even you want to check your stats & inbound links.