Wordweb – Dictionary + Thesaurus + Word Finder

This thesaurus/dictionary is a one click English lexicon windows that can look up words in almost any programs. Besides processing your any word request, it works off line, the database has more than 150,000 root words and 120,000 synonym sets, many proper nouns, pronunciations, and usage tags. When online you can look up to web references such as wikipedia encyclopedia. Version 5.52 has minor updates and compatibility fixes. The requirements for it are Windows98//Me/NT/2000/XP/Vista.
Some of the common features of wordweb are :
It have vast variety of definitions and synonyms
Wordweb have reach to proper nouns
Possible reach to every Related words
Clear and audible Pronunciations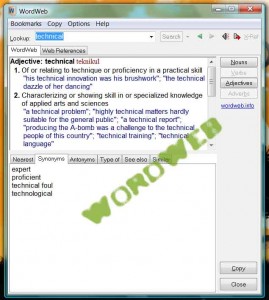 WordWeb is a handy utility that gives you the definition, synonyms, and antonyms of any given word without requiring you to go online, though it can connect to the Internet for expanded functionality if you want it.