Yahoo! Mobile's AppSpot: Fast Way to Search for Apps
According to the Yahoo Mobile blog
Yahoo! AppSpot, a new mobile application, works like a flashlight in the darkness of more than 425,000-plus apps in the Apple App Store and 200,000 apps in Android Market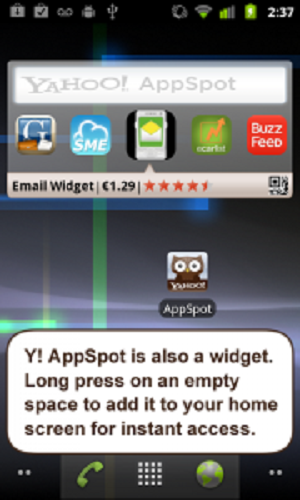 This application will help you narrow your search for the app that you are looking for and help you make better and more efficient use of the apps that are available. An important part of this application is to simplify the search process by picking favorite apps and enabling you to search for features available in apps even if you don't know the exact name of the application.
Apart from the opportunity to explore the Apple App Store or Android Marketplace easily and efficiently, some of AppSpot's most interesting features include Daily Personal Picks, Most Precise Results, Related Apps, At-a-Glance Shopping, and Fast & Easy Downloads.
Daily Personal Picks will provide app suggestions to users on a daily bases to ensure you are up to speed with what is new. When you type app details, Most Precise Results will use search technology will provide the matching app titles based on the keywords entered by you. While you get your desired results Related Apps will also provide additional apps that you might think is useful, under the more apps you'll love section. At-a-Glance Shopping will as the name suggests, assist you with prices of goods with overall rating descriptions and screenshots. You can get direct links to specific app pages in the different websites using Fast & Easy Downloads.