YouTube and FLV Player for windows mobile
Youtube is the best way to get the latest songs from the internet.So we can easily download these video with the help of Youtube Downloaders in the flv files.We often play these flv files in the computers with the help from players like vlc player, GOm players but the main issues is how to play flv files for mobiles?.
This is the ultimate solution for windows mobile users for playing flv files in their mobiles.If you are unable to download and watch youtube videos on your Windows Mobile 6 device then you may also enjoy this application.I personally tested this application on my HTC Touch.
Youtube Player allows you to search for and play videos in a nice Windows Mobile application, then plays the full FLV video (not minuscule MPEG4 versions) with its own player.
Require high data rate and consume high bits so be sure you have unlimited plan for accessing net of mobile.Moreover It won't work well on GPRS as flv videos are of large sizes.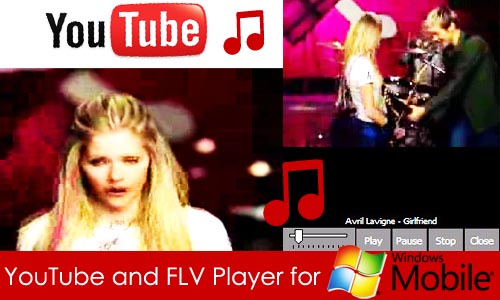 Download Now
[download#9]
If you have other mobile like nokia e71 or other sysmbian based mobile then in general youtube provide the mobile verions on www.m.youtube.com and you can install the applications in few simple steps.Supported mobiles are Nokia's N73, E51, E61, E61i, E65, N95, 6120c, 6110n and Sony Ericsson's k800i and w880i.
In short you can install the youtube application and if you need more information the watch this video

Transcript of the video
1. Using your phone browser go to: m.youtube.com/app
2. Follow the instructions to download YouTube
3. Exit your phone browser
4. Find the YouTube icon on your phone and start watching videos
Update on 7march,2009:Temporally m.youtube.com/app gives 404 not found error.