Zoho Smoothly Works In Mobile Device
People only know about Google docs, but one of the growing competitor of Google Doc's is Zoho. Zoho it's web based productive software suite for documents, projects, management tools but they integrated with mobile devices.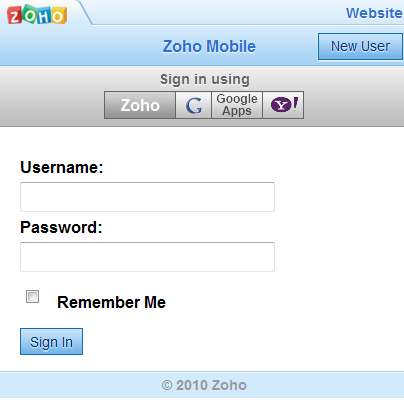 Zoho previously had basic mobile support for its applications on iPhone and some limited capability on Windows Mobile but now fully integrates Zoho Applications with several mobile devices. Zoho Mail, Calendar, Writer, Sheet, Show & Creator are now available for the iPhone, Android, BlackBerry, Windows Mobile and Symbian devices. — says Leena. In before you have to sign up by using the zoho's account. In last year they enabled new log-in features that you can log-in by using your yahoo or gmail's account. It's easier, just use your user name and password what actually you're using in Gmail/ Yahoo automatically you will get access to your zoho accounts.
Demo on blackberry mobile