Schedule Your Flickr Uploads Using FlickrQ
If you want to schedule your Flickr photo upload then there is a nice service for this purpose and it is known as FlickrQ. Now the question arises, why anyone wants to schedule the Flickr upload. Well, there may be many reasons.
The main benefit of this process will be more profile interaction. Every time you upload new pic, your friends visit your profile so often to see the new photographs. It will result in more interaction such as comments, favorites and views.
Also if you are going somewhere outstation where there is no computer or internet availability then you can schedule uploads which daily updates your Flickr stream.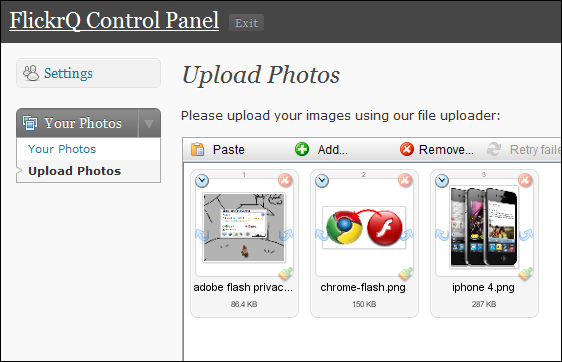 Another benefit of using this service is it is a web based service, which means no software download, no mess with the system registry files.
Here's a step by step instructions to use this service:
Sign up for FlickrQ. There is a plus point for WordPress users because this site is developed on WordPress platform.
After registration, you'll receive a conformation mail with the username and password. Login with the given credentials.
Now go to upload settings and enter your Flickr upload email address.
Upload your photographs. You can drag and drop photos to the given area.
Give title, description and tags to the photographs.
Set the upload to Flickr time.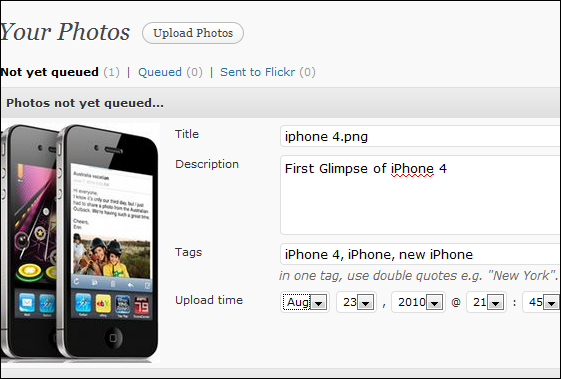 That's it, now logout with the service. It will upload photo to the Flickr according to the schedule time. You can schedule as many photos as you want.
Go to FlickrQ and start upload and schedule photographs for Flickr.