Top 50 Free Open Source Content Management System
Gone are those days when you had to be an tech expert to create a website. We are now in the era of Content Management System. CMS is actually a multi-functional capable to create a powerful portal website in no time. You can not only create a website successfully but also can create and publish web content, make visible to your audience and archive it safely. You might heard of top 10 open source micro blogging services or ways to earn from open source but largest ratio of the open source developers and freelancers uses CMS for their professional works, for example 15 free and open source tools for web designers / developers and other(described below). Exciting features of CMS include well organized and complete, data security is strong, and in turn reduces your site maintenance cost. Herewith, we have embraced an excellent list of Top 50 Free Open Source Content Management System that is of course free to download and use tools. Make a wise choice by picking up these CMS to create and manage your website.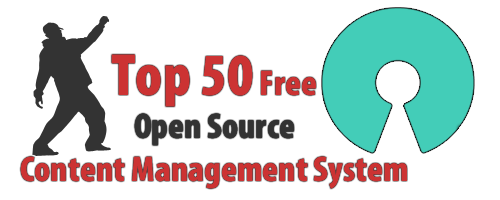 WordPress – WordPress is a high-tech content management platform with a focus on aesthetics, web standards, and usability. Many might know WordPress as just blogging platform but it has soon capturted the CMS industry with its customized and powerful plugins.
Joomla – Joomla is a well-known award-winning content management system (CMS) that let you to build Web sites and powerful online applications. With  Joomla CMS you are  free to add many extra interesting modules and components that would improve the value of your blog/website and can also enhance your visitors' experience.
Drupal – Drupal is CMS package that allows users to easily publish, manage and organize a wide variety of content on a website. Many have used this as a back-end system for different kinds of websites such as small personal blogs to large corporate sites.
Mambo – Mambo is a full-featured, content management system that can be used for everything from simple websites to complex corporate applications. It is already been used all over the world to power government portals, corporate intranets and extranets, ecommerce sites, community sites and more.
e107 – e107 is a content management system written in PHP and using the popular open source MySQL database system for content storage. It's totally customizable and in constant development. The best thing about e107 is the ability of balancing between offering a lot of functionality out of the box, but still remain light weight.
Hippo CMS – Hippo focuses on Content Management and Portal technology. Hippo CMS is an Open Source application that also offers enterprise services. In a simple way it provides a free and Open Source software and the quality of service of a professional company.
Radiant Cms -  Radiant is a no-fluff, open source content management system designed especially for small teams. It has elegant user interface with first-class extension/Plugin system. You will get flexible templating with layouts, snippets, page parts, and a custom tagging language.
Frog CMS – Frog CMS simplifies content management by providing an elegant user interface, flexible templating per page, simple user management and permissions, along with the tools necessary for file management.
Dot CMS – DotCMS specializes in web content management that is wCMS. You get excellent professional service, training, installation and support for the company's product. Professional services include Consulting service, implementation services, seamless integration and custom development.
Magnolia – Magnolia powers the websites of government as well as leading Fortune 500 enterprises in more than 100 countries on all continents of the world. You can lay content as exactly how it should appear to your visitor.
CMS Made Simple – CMS Made Simple helps experienced web developers and designers to create sites of power and beauty in a fraction of the normal time. From a simple brochure site to a complex portal, it puts the power of a modular and extendable content management system at your fingertips. And best of all, it's free!
Expression Engine: ExpressionEngine is a flexible, feature-rich content management system that empowers thousands of individuals, organizations, and companies around the world to easily manage their website. If you're tired of the limitations of your current CMS then take ExpressionEngine for a spin. Core version of ExpressEngine is free!
TYPOlight – TYPOlight is a PHP 5 CMS carrying lot of features such as live update, cross-browser CSS framework generator(IE7 compatible), and templated based front end output. It uses Ajax and Web 2.0 technologies. Multi-language support, live updates and Cross-browser CSS framework generator are just few of its features.
Plone – Plone is powerful and flexible content management system. It is absolutely easy to install, use and extend. It is best for non-technical people for creating and maintaining information using only web browser. Get the superior security experience without scarifying extensibility. 
Concrete5 – Concrete5 is an updated open source content management system with simple administrator interface. Editing a web page was never this easy you just need use the editing toolbar provided after you log in as administrator. No intimidating manuals, no complicated administration interfaces.
Jojo CMS – Jojo is a PHP-based free CMS for web developers desiring to build good user-friendly websites. You can develop sites with easy to manage, search engine friendly and design flexibility.
Textpattern – Textpattern is a flexible, elegant and easy-to-use content management system. You need PHP 4 to run and also have lot of plugins that can be used for numerous customizations. It is especially designed to simplify the production of well-structured, standards-compliant web pages.
Symphony – Symphony is an open source content management system intended to let developers program fully in the XSLT templating language. Symphony believes nothing should be scarified when it comes to flexibility. Here developers would have full control over their website's URLs, Markup and Data structures.
ImpressCMS – ImpressCMS is a community developed Content Management System for easily building and maintaining a dynamic web site. It is the ideal tool for a wide range of users: from business to community users, from large enterprises to people who want a simple, easy to use blogging tool.
MODx – MODx is described as a "PHP application framework helping you take control of your online content"; it further lets the developers and advanced users to give as much more control as wanted to whomever they wish for everyday website content maintenance everyday jobs.
Umbraco -  Umbraco is an open source CMS based on Microsoft ASP.NET. This has excellent support to any modern browser and also allows editing with Microsoft word. Developers are free to integrate any .net based control.
CushyCMS – CushyCMS is simple yet elegant open source CMS. There is no software to install and no programming required. Takes very little time for setup and edit the content. Generates search engine friendly content as well.
Habari Project – Habari is a highly recommended open source CMS platform for blogging. It is actually been written specifically for modern web hosting environment, and uses modern object oriented programming techniques.
Exponent CMS – Exponent is a website content management system (or CMS) that allows site owners to easily create and manage dynamic websites without necessarily directly coding web pages, or managing site navigation.
MiaCMS – MiaCMS is actually a split of the Mambo CMS and excellent in offering simple installation. Graphical content editors, RSS content syndication, and powerful/extensible 3rd party extension system are by all means possible with MiaCMS.
TYPO3 – TYPO3 is a well-known Open Source content management system for enterprise purposes on the web and in intranets. It offers full flexibility and extendibility while featuring an accomplished set of convenient interfaces, functions and modules.
Elxis CMS – Elxis CMS has lot of interesting feature such as great security, search engine friendly URL, complete user profiles and adjustable member list. You could be more productive with its features such as automated tasks, AJAX technology, modern design and multi-lingual.
Chyrp – Chyrp is a blogging engine designed to be very lightweight while retaining functionality. It uses Twig for the templating engine and powered by PHP. You get powerful theme and extension engines to personalize it however you wish.
PHP Fusion – PHP Fusion is a light-weight open-source content management system written in PHP. It utilizes a mySQL database to store your site content and comprises a simple, comprehensive administration system.
Jaws – Jaws is a Framework and Content Management System for building dynamic web sites. It aims to be User Friendly giving ease of use and lots of ways to customize web sites, but at the same time is Developer Friendly.
Geeklog – Geeklog is a PHP/MySQL based application for organizing any kind dynamic web content, offering out-of-the-box blog engine, and CMS with superb support for comments, trackbacks, multiple syndication formats, and other spam protection.
CMS Container – CMS Container enables your organization to efficiently maintain large content-driven websites using a single CMS. You can get the experience of creating a staging and live environment, arrangement for content publication and it also has automatic removal of content on expiry.
Alfresco –  Alfresco powerful enterprise content management system featuring web and document management. Other exciting feature would include version control, WebDAV/LDAP Authentication, Micro Sites and enterprise level solution. Converting PDF to Text via upload is as well possible.
PhpCMS – PhpCMS is a content management system that is characterized by simple system requirements, high performance, and, above all, flexibility. PhpCMS is really suitable for small, private websites, as well as complex, high traffic websites including the integration of web services and external applications.
SiteFrame – Site Frame is a lightweight, web-based CMS planned for the fast development of community-based blogs/websites. A group of users are free to share stories and photographs, post blogs, send email to one another, and participate in other group activities.
Xaraya – Xaraya is a cutting edge open source framework (written in PHP) on which developers can create stylish web applications and designers enjoy considerable flexibility. You get Modular design, Stable, Extensive API, XML based templating with BlockLayout all in one place.
MediaWiki – MediaWiki is a package originally written for Wikipedia, however today is been used by several other projects of the non-profit Wikimedia Foundation and by other Wikis.
Nucleus CMS – Nucleus CMS is again advanced CMS based on PHP/SQL. This extensible blogging tool also features multiple weblog capabilities and RSS syndication.
b2Evolution – b2Evolution is another open-source (GPL), which runs on virtually any webserver featuring PHP/MySQL and available in different languages. It includes all the features of traditional blog tools, and extends them with evolved features such as file & photo management, advanced skinning, multiple blogs support as well as detailed user permissions
jLibrary – jLibrary is an atypical DMS. CMS engine is geared for both personal and enterprise use and also provide you with flexible system that could almost be used for any information management purpose.
Jahia -Jahia an excellent enterprise web content and portal management system. This interesting system includes a web publishing system, portal server and content management server.
eZ – eZ Publish is again an open source content management and content management framework. You get extensive content management solution, social networking platform along with community portal.
Diferior – Diferior is multi-purpose content management system based on PHP. It is not only flexible but also customizable both user and developer friendly. You can distribute files with Diferior via BitTorrent, HTTP and FTP protocols.
Xoops – XOOPS is an extensible, OO (Object Oriented), easy to use dynamic web content management system written in PHP. XOOPS is the ideal tool for developing small to large dynamic community websites, intra company portals, corporate portals, weblogs and much more
Movable Type – Movable Type is more like WordPress. You get great weblog creating tool that is further used for building non-blog dynamic sites/blog also.
Exponent – Exponent is a massive CMS that let you easily create and manage dynamic websites without actually directly coding web pages and managing site navigation.
OpenACS – OpenACS is user friendly open architecture community system. You get a toolkit for building scalable, community-oriented web applications.
PhpNuke – PhpNuke is not only a CMS, but also portal solution, which features web-based administration, customizable blocks, excellent themes with multilingual support, surveys and modules.
Pligg – Pligg CMS provides social networking software that encourages visitors to register on your website so that they can submit content and connect with other users.
OneCMS – OneCMS well-known as Insane Vision is typically used by gaming websites, it can be used by webmasters to organize their website/blog. It also allow the user to upload files, add content and various other features
Zope – Zope is an open source application server offers intranets, portals, and custom applications. Zope is written in Python, a highly-productive, object-oriented scripting language.
Hope the list is useful for you all and do share if you are experiencing any other free open source content management system at your end!